Measurement of Acetaldehyde and Ethanol in Exhalation
The technology could be used in the field of preemptive medical care, which aims to realize a healthy society
Acetaldehyde, which is generated inside the body due to the metabolism of alcohol after drinking alcohol, is the causal substance of esophageal cancer and head and neck cancer, and also causes various other health hazards. The generated acetaldehyde is degraded and rendered harmless by the aldehyde-catalyzing enzyme ALDH2. However, the aldehyde-catalyzing capability of ALDH2 differs according to the gene type. Therefore, there are individual variations in the effect of the acetaldehyde including the risk of developing esophageal cancer.
Concentrations of acetaldehyde and ethanol and concentration ratio "A/E Ratio" is gaining attention as an index to measure individual variations in alcohol metabolic capacity. Conveniently measuring and quantifying "A/E Ratio" as is done with blood pressure and blood sample information would allow each individual to know of his own alcohol metabolic capacity. This is expected to lead to a decrease in cancer incidents and alcoholism due to improvement in lifestyle habits. It is anticipated that this device can be used in the field of preemptive medicine, which aims to realize a healthy society, by being implemented in school physical examinations and general physical examinations.
Initiatives 
Research and Development of a Measuring Device Which Detects Acetaldehyde in Exhalation with High Accuracy
Nissha is carrying out its research and development in the medical field by accelerating its technology development for the growing fields of medicine and health care, as well as searching for new core technologies to acquire and for new markets for sales.
The company is making full use of its gas sensor technology and biogas measurement technology in cooperative research with Manabu Muto, Professor of the Therapeutic Oncology Course at the Graduate School of Medicine and Faculty of Medicine Kyoto University, to develop a device which measures acetaldehyde and ethanol in exhalation. One minute after taking in a small amount of alcohol, this instrument detects the trace amounts of acetaldehyde and ethanol generated inside the body from the person's "exhalation," measures the concentration, and quantifies it as the "A/E Ratio." By measuring exhaled gas, it makes possible a minimally invasive, highly accurate, and simple measurement of acetaldehyde.
The company is designing and developing a model for production and conducting various performance tests with a view to making it a commercial product and acquiring certification as a medical tool. Concurrently, research and development for further application is being conducted at Kyoto University, as well as other university hospitals and medical sites, and use in preemptive medicine is anticipated.
Joint Research: Comment by Manabu Muto, Professor of the Therapeutic Oncology Course at the Graduate School of Medicine and Faculty of Medicine Kyoto University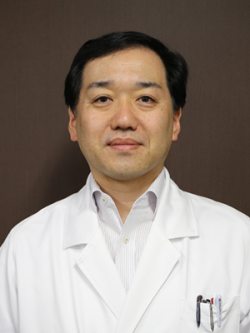 For cancer medical treatments, the primary prevention is to "not develop into cancer", but in reality, this is extremely difficult. As one cause of esophageal cancer, "acetaldehyde", which is a metabolic product from alcoholic beverages, is believed to be a carcinogenic substance. The device is an innovative measurement device that can detect small trace amounts of acetaldehyde with high accuracy by measuring the exhalation just one minute after drinking trace amounts of alcohol.
Using the device, the amount of carcinogenic substances generated inside of one's body can be known, and it is believed that this will help prevent esophageal cancer. In addition, I expect that it will help with health management because alcohol metabolic capacity can be determined as a numerical value.
In the health industry, "Exhalation Diagnosis" is expected to be a minimally invasive examination, but it is still a developing field. In addition to bags with high adsorptive properties that can efficiently collect exhaled components, development of necessary measurement instruments and establishment of new standards that correlate with disease are being promoted. As a doctor and researcher, I believe that using the device in actual medical practice will lead to better medical treatments.
Personal History
1991: Graduated from Fukushima Medical University
1991 - 1995: The Departments of Internal Medicine and Gastrointestinal Medicine at Iwaki Kyouritsu Hospital (Fukushima Prefecture)
1995 - 2007: National Cancer Center Hospital East (Current Name )
2007 - : Associate Professor for the Department of Gastroenterology and Hepatology at Kyoto University Hospital
2012 - : Professor of Therapeutic Oncology Course at the Graduate School of Medicine and Faculty of Medicine Kyoto University
Chair of the Department of Clinical Oncology at Kyoto University Cancer Center

Inquiry
Please feel free to contact us.