Nissha's Business
Developing 3 businesses in a global basis
Composition of Sales by Business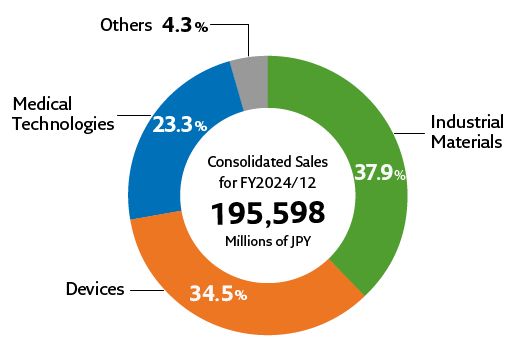 Composition of Sales in Domestic and Overseas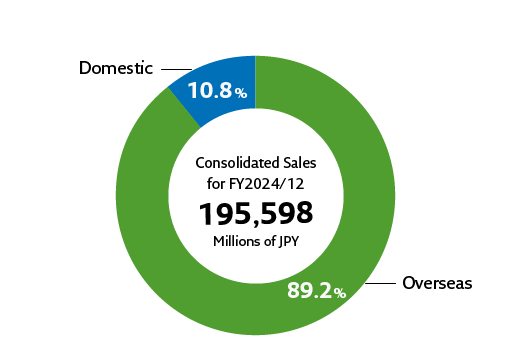 Industrial Materials
We mainly offer proprietary technologies that enable to create added value on the surfaces of various materials. IMD, IML, and IME, which facilitate simultaneous in-mold decoration, design and function adding of plastic products, are extensively used in mobility components and home appliances in global markets. We also offer sustainable materials such as metallized paper that unites the properties of metallic luster and printing friendliness, and as environmentally-friendly molded products made from plant-based materials.

Main Products and Services
Devices
We provide components and module products that pursue precision and functionality in a convenient form to customers. Our main products, film-based touch sensors are widely used mainly in tablets, smartphones, portable game players, industrial equipment (logistics related), mobility components, etc. in global markets. In addition, we offer force sensors that can detect various types of pressure, and gas sensors that can detect gas conditions, along with other products.

Medical Technologies
We offer high-quality and value-added products in medical devices and other related markets to contribute to healthy and affluent life. We deliver our mainstay surgical instruments for minimally invasive treatments as well as medical wearable sensors and other products for a wide range of conditions, primarily heart disease. We currently provide contract design/development and manufacturing services for major medical device manufacturers, especially for those in North America and Europe. In addition to these, we manufacture and sell own brand products to medical institutions.
Others
In addition to above three businesses, we are developing a range of businesses that include Information and Communication, and Pharmaceutical and Cosmetics.