CEO Message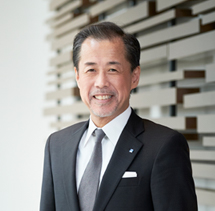 Nissha Group is a forward thinking global company. Our Mission is to realize the enrichment of people's lives by creating technology and developing it into economic and social value through the diverse capabilities, passion, and leadership of the global Nissha Group. Nissha Group is developing the 3 businesses segments of "Industrial Materials", "Devices", "Medical Technologies", and also developing various businesses such as "Information and Communication", "Pharmaceutical and Cosmetics".
We have been constantly attempting to improve Core Technologies while integrating the technological elements such as Coating, Molding and Metal Processing, into the Printing technology we have cultivated since our foundation.
Consequently, we have realized expansion of our business domain through diversification of products and target markets and expansion into global markets.
With the enhancement of our business portfolio, we have more than 50 domestic and overseas business bases and more than half of our employees work abroad.
Our capability continues to diversify more and more.
We have been currently operating the 7th Medium-term Business Plan (three-year plan) aiming to construct a foundation for growth by fully utilizing the global business bases. We greatly appreciate your guidance and encouragement.

Junya Suzuki
Chairman of the Board,
President and CEO
Nissha Co., Ltd.