Nissha Schuster Group
| | |
| --- | --- |
| Business | |
| Function | |
| Business Outline | Production and sales of plastic molded components and decorative films for mainly automotive interior |
Company Profile
Nissha had welcomed Nissha Schuster Group which has been producing and sales of automobile interior plastic molded components and decorative films mainly in Europe in October 2016.
Nissha Schuster Group have IML technologies which supplement mutually Nissha's existing
decoration technology, IMD.
Their production know-how is class leading and they have established strong customer relations with a focus on the major automotive manufacturers in Europe. In the future, we are planning to integrate Nissha Schuster Group decoration technology, production know-how and sales channels with the whole Nissha Group's existing network for the purpose of expanding its business in the automotive market.
*Nissha Schuster Group is the generic name of Nissha Schuster Kunststofftechnik, Nissha Back Stickers and its related group companies
Nissha Schuster Group Companies
Nissha Schuster Kunststofftechnik (Germany)
Incorporation
: 1995
Ownership
: Nissha Europe GmbH (100%)
Managing Director
: Roland Beil
Business Outline
: Produce and sales of automotive plastic molded parts and assemblies for automotive interior and exterior applications
Location
: Lauchaer Höhe 13, 99880 Waltershausen, Thüringen, Germany
Contact
:
T
+49 3622 4010-0
F
+49 3622 4010-140
WEB
:
https://iml-specialist.com/en/home/
Nissha Back Stickers (Germany)
Incorporation
: 2002
Business Outline
: Produce and sales of decorative film used for automotive interior and exterior applications
Location
: Ziegeleistraße 3a, 99880 Waltershausen, Thüringen, Germany
Contact
:
T
+49 3622 20770-0
F
+49 3622 20770-20
WEB
:
https://www.backstickers.com/en/
Nissha Back Stickers International (Netherlands)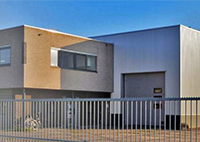 Incorporation
: 1981
Business Outline
: Produce and sales of decorative film used for automotive interior and exterior applications
Location
: Grindzuigerstraat 29-31, 1333 MS Almere, the Netherlands
Contact
:
T
+31 36549 1020
F
+31 36549 1029
WEB
:
https://www.backstickers.com/en/
Nissha SB Poland Sp. z o.o. (Poland)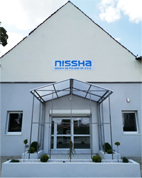 Incorporation : 2019
Business Outline : Measurement and inspection of molded parts and decorative film for automotive interior and exterior applications
Location : Ul. Nowodworska 32, 59-220 Legnica, Poland
Contact:T +48 507737580