New Factory Starts Full Operation in Eastern Europe
September 6, 2019
Nissha Co., Ltd.
Nissha Co., Ltd. (hereinafter "Nissha") has started full-scale operation of a new factory of industrial materials business in southwestern Poland, where is close to automotive industry cluster in Eastern Europe, centered on the Czech Republic. Nissha will further expand our business in the mobility market, one of Nissha's priority markets.
In Europe, Nissha provides molded parts and decorative film for automotive interior, mainly based in Germany. The new plant starts its business by measuring and inspecting molded parts and decorative film, and plans to develop post-processing and sub-assemblies for molded parts.
Overview of the new factory
| | |
| --- | --- |
| Trade name | Nissha SB Poland Sp.zo.o. |
| Address | Ul. Nowodworska 32, 59-220 Legnica, Poland |
| Business outline | Measurement and inspection of molded parts and films in the industrial materials business |
| Established | February 19 2019 |
| Shareholder composition | 100% owned by Nissha group |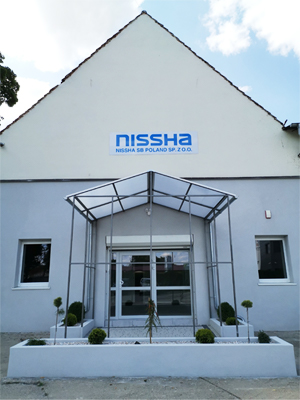 - The content of the web is information at press time, may change thereafter without notice. Due to risks and uncertainties, predictions may differ from actual results. Please be forewarned.
- "Nissha" is a generic name of Nissha Co., Ltd. and "Nissha Group" is a Nissha Co., Ltd. and its group companies.