IR Policy
1. IR Activities
Nissha Co., Ltd. ("Nissha" or "the Company"), valuing our mutual influential relationships with our customers, shareholders and investors, employees, suppliers, society, and all other stakeholders, aspires to create a future with value with you all. To promote understanding of the Company by our stakeholders and to seek fair valuation by our shareholders and investors, we engage in corporate information disclosure and other IR activities.
Structure for IR Activities
We have a department for corporate communications under the direct control of the President and CEO. The department organizes a division in charge of investor relations for active dialogues with shareholders and investors.
The division in charge strives to enhance dialogues through comprehensive provision of financial and non-financial information gained from cooperation with business units, finance department that handles financial information and a department that handles ESG related matters.

Content of IR Activities
At Nissha, we provide with opportunities for dialogues our shareholders and investors through IR events and one-on-one briefings as well as the disclosure of corporate information. We regularly report your feedback and opinions to management, working to further enhance our corporate value.
Nissha's Major IR Activities
Organize management briefings following annual general meeting
Organize web-based financial results presentations quarterly
Organize one-on-one briefings for institutional investors (any time, except a period of silence)
Respond to individual inquiries (any time, except a period of silence)
Communicate IR information via the Nissha website
Publish reports (Integrated report, Business report, Sustainability report, etc.)
2. Information Disclosure
Nissha's basic stance on information disclosure is to disclose information promptly and in a timely manner, and with consideration to accuracy, fairness, and consistency. We strive to communicate corporate information fairly and prevent leakage of important undisclosed matters by establishing a period of silence and defining the scope of provision.
Standards and Methods of Information Disclosure
We disclose corporate information in accordance with the Financial Instruments and Exchange Act and other relevant laws, and with the Rules for Timely Disclosure of Corporate Information by Issuers of Listed Securities, or Timely Disclosure Rules, set forth by the Tokyo Stock Exchange. As for items not covered by the Timely Disclosure Rules, we will voluntarily provide disclosure if we deem the information will affect the investment decisions of our shareholders and investors. This disclosure is done through the Tokyo Stock Exchange's Timely Disclosure Network, or TDnet, as well as the news media. The information is also promptly published on our website following disclosure.
Any other corporate information that we believe will promote understanding of the Company is provided promptly through the news media and on the Nissha website.
Internal Structure for Timely Disclosure
We have established a Disclosure Control Committee chaired by the president and made up of directors and managers of the Business, Corporate, and other divisions. This Committee constructs and operates our internal structure for disclosure, and determines the importance and suitability of information to be disclosed.
When disclosure is deemed necessary, the information is presented to the Board of Directors for approval if the contents warrant it, and then promptly disclosed.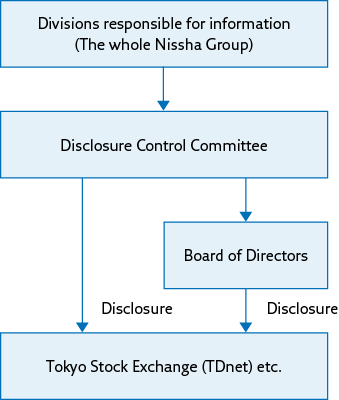 Scope of Provision
In response to inquiries, in one-on-one briefings, or in financial results presentations, we will discuss only information already disclosed, facts that are widely known, or general knowledge about the business environment. We will not make any reference whatsoever to important undisclosed information.
If it is determined after the fact that there is the risk that important undisclosed information has been provided to certain shareholders or investors in response to inquiries, in one-on-one briefings, or in financial results presentations, this information shall be disclosed promptly following the decision of the Disclosure Control Committee.
Forward-Looking Statements
For items not based on historical fact, such as performance targets, plans, forecasts, and strategies, we provide disclosure as deemed reasonable by management based on information available at the time. These forward-looking statements involve risk and uncertainty, and may differ substantially from actual business results depending on factors such as economic trends, market demand, and fluctuations in exchange rates.
Period of Silence
We designate the day following the settlement of accounts through the day of announcement as a period of silence. During this time, we will refrain from commenting, accepting interviews, or responding to inquiries on financial results and forecasts. When matters that require timely disclosure arise during this time, however, we will provide timely disclosure.