Nissha wins an award in 2015 Local Commendation for Invention (Kinki block)
October 21, 2015
Nissha Printing Co.,Ltd.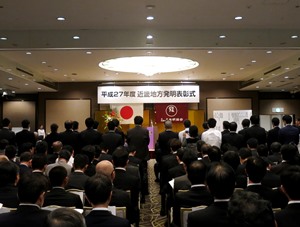 Nissha's invention patent related to its simultaneous injection molding and decoration (in-mold decoration IMD) film has been awarded the top prize at the 59th Kyoto Prefectural Award for Distinguished Services in Invention, and has won the Encouragement Prize for Invention in the 2015 Local Commendation for Invention (Kinki block).

The Local Commendation for Invention (Kinki block), organized by the Japan Institute of Invention and Innovation, has been held every year since 1921. Its aim is to "commend engineers, researchers and developers who have produced an outstanding invention, idea or design." This is Nissha's second consecutive year of entering the competition and winning an award.
Overview of Award-winning Patent
Invention Name: Production method of simultaneous injection molding and decorative films and of simultaneous injection molding and decorative products. (Patent No. 3782926)
Inventor: Kentaro Fujii
Key Points: Invention related to transfer foil used in in-mold decoration (IMD) technology which performs simultaneous molding and decoration of plastics. By placing an oligomer separation prevention layer on the PET film surface of the transfer foil, the oligomer from the PET film does not separate. Staining of the transfer foil is prevented, eliminating the need to wipe dirt from the decorative article, wipe the metal, or repair the mold.
- The content of the web is information at press time, may change thereafter without notice. Planning goals, risks and uncertainties due to the fact, predictions and may differ from actual results. Please be forewarned.
- "Nissha" is a generic name of Nissha Co., Ltd. and "Nissha Group" is a Nissha Co., Ltd. and its group companies.