Initiative for Next Generation Support
Sponsor of Workshop Kyoto Rakuhoku Machikusa Mikke!

December 15, 2015
Nissha Printing Co.,Ltd.
Nissha Printing Co., Ltd. (hereinafter "Nissha") sponsors the children's workshop Machikusa Mikke! (Wild-plant Hunt) in a continuous effort since fiscal year 2010 to meet its commitment to environmental protection and next generation support set forth in the Nissha Basic Social Contribution Policy. Organized in collaboration with NPO Kids Meet Artists (Director: Haruka Idegami), the program aims to develop in children an interest in the environment and unleash their creativity and imagination.

In the workshops, children observe weeds (Machikusa) that generally go unnoticed in daily life, guided by artist Shinpei Shigemoto, aka Doctor Machikusa, who coined the term. The children give these weeds original names of their choice and photograph them with a digital camera. At times they print out the photographs and decorate them in original frames, or make presentations of each other's newly invented names.

On November 28, 2015, Nissha sponsored Kyoto Rakuhoku Machikusa Mikke! (Wild-plant Hunt in Rakuhoku, Kyoto), organized by NPO Kyoto Rakuhoku Moritomizunokai at Kamigamo Shrine in Kita-ku, Kyoto.
The entire complex of Kamigamo Shrine, spanning 230,000 tsubo (76 hectares), is designated a cultural World Heritage Site. In October, a Sengu ceremony was held to celebrate the renewal of the shrine buildings every 21 years.

Twenty-five children from Kamigamo Jidokan (Director: Keiko Itoi), operated by the Kyoto City Council of Social Welfare, participated in the workshop.
On this crisp day, the children were full of energy as they hunted for weeds amid the autumn foliage of the Shokeien Garden. Then, they made picture frames and presented their findings in the Chonoya Hall, designated an important cultural property. "Happa no tento" (Tent of Leaves), "Samugari kyodai" (Chilly Brothers), "Uoza" (Pisces)… The children came up with many unique names and enjoyed a lively workshop.

Nissha plans to continue in its initiative to support future generations.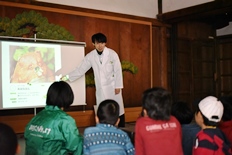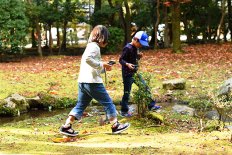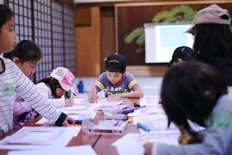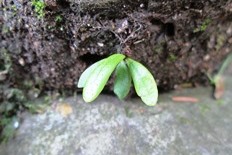 - The content of the web is information at press time, may change thereafter without notice. Planning goals, risks and uncertainties due to the fact, predictions and may differ from actual results. Please be forewarned.
- "Nissha" is a generic name of Nissha Co., Ltd. and "Nissha Group" is a Nissha Co., Ltd. and its group companies.