New Dodge Ram Uses Nissha IMD - Wins 2009 Interior of the Year Award
April 7, 2009
Nissha Printing Co.,Ltd.
At the Auto Interiors Show, a car interior products exhibition held in the United States, Chrysler's new Dodge Ram was awarded the 2009 Interior of the Year Award for its classy interior design, which combined wood-grain and metallic finishes for the first time.

Nissha IMD was used for the new Dodge Ram's wood-grain and metallic interior parts (the center stack and door trim).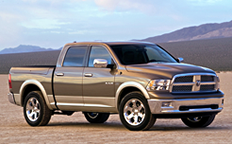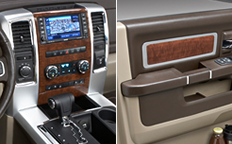 - The content of the web is information at press time, may change thereafter without notice. Planning goals, risks and uncertainties due to the fact, predictions and may differ from actual results. Please be forewarned.
- "Nissha" is a generic name of Nissha Co., Ltd. and "Nissha Group" is a Nissha Co., Ltd. and its group companies.