Sponsoring of the"Visual Deception" Exhibition
April 13, 2009
Nissha Printing Co.,Ltd.
We are an official corporate sponsor of the "Visual Deception" Exhibition.

We are also producing goods for the exhibition, including a picture book, posters, leaflets, tickets, postcards, framed pictures and note paper.

Approximately 100 paintings of "visual deception" will be on display under a single roof from great illusionists, including Gysbrechts (the king of deception), Hoogstraten (Vermeer's teacher), Magritte (the 20th Century master), Dalí, Escher, Kuniyoshi Utagawa (the Edo kyoga artist) and Arcimboldo (the imaginative court portraitist).

The schedule for "Visual Deception" is shown below.

April 11 to June 7, 2009 Nagoya City Art Museum 
June 13 to August 16, 2009 Bunkamura, The Museum (Tokyo)
August 26 to November 3, 2009 Hyogo Prefectural Museum of Art
*Touring Exhibition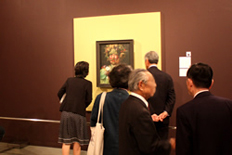 - The content of the web is information at press time, may change thereafter without notice. Planning goals, risks and uncertainties due to the fact, predictions and may differ from actual results. Please be forewarned.
- "Nissha" is a generic name of Nissha Co., Ltd. and "Nissha Group" is a Nissha Co., Ltd. and its group companies.