2008 Best Partner Award from Quanta Computer Inc.
April 28, 2009
Nissha Printing Co.,Ltd.
Nissha was selected as the Best Partner for 2008 by customer Quanta Computer Inc. and was awarded a thank you plaque in recognition of the excellent business and support provided by Nissha in 2008.

Nissha will continue to provide products and services that satisfy customer needs in the future.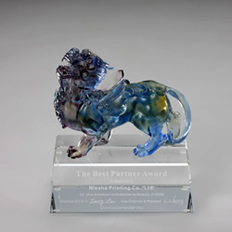 - The content of the web is information at press time, may change thereafter without notice. Planning goals, risks and uncertainties due to the fact, predictions and may differ from actual results. Please be forewarned.
- "Nissha" is a generic name of Nissha Co., Ltd. and "Nissha Group" is a Nissha Co., Ltd. and its group companies.