Sponsoring of the "CAMINO A LA MODERNIDAD: Maestros de la Pintura Mexicana" exhibition 
July 3, 2009
Nissha Printing Co.,Ltd.
We are an official corporate sponsor of the "CAMINO A LA MODERNIDAD: Maestros de la Pintura Mexicana" exhibition, being held from July 4, 2009, to August 30, 2009, at the Setagaya Art Museum in Setagaya Ward, Tokyo.

This exhibition was planned as an anniversary event to celebrate the fact that 2009 marks the 400th anniversary of the start of friendly relations between Japan and Mexico.
Approximately 70 representative contemporary Mexican paintings by artists such as Frida Kahlo and Diego Rivera, from institutions including Mexico's National Art Museum and Museum of Modern Art, are on display.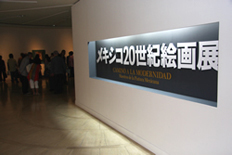 - The content of the web is information at press time, may change thereafter without notice. Planning goals, risks and uncertainties due to the fact, predictions and may differ from actual results. Please be forewarned.
- "Nissha" is a generic name of Nissha Co., Ltd. and "Nissha Group" is a Nissha Co., Ltd. and its group companies.