We are included in SRI indicator "FTSE4 Good Global Index"
September 28, 2009
Nissha Printing Co.,Ltd.
Nissha was included in "FTSE4Good Global Index" which is one of the typical SRI (social responsibility investment) indices for the companies in the world in September, 2009.
"FTSE4Good Global Index" is the index of the FTSE group (joint company of the Financial Times and the London Stock Exchange).

The measure about corporate social responsibilities, such as environment, a climate change, human rights, and bribery and labor standards in supply chains are taken to select the company which is meeting the global standard.

We'll promote the CSR (corporate social responsibility) activity continuously by considering this selection as encouragement, and realizes "Co-existence" with society.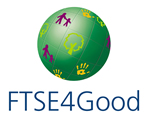 - The content of the web is information at press time, may change thereafter without notice. Planning goals, risks and uncertainties due to the fact, predictions and may differ from actual results. Please be forewarned.
- "Nissha" is a generic name of Nissha Co., Ltd. and "Nissha Group" is a Nissha Co., Ltd. and its group companies.