Presentation of the Nissha Award at AMUSE ART JAM 2009 in Kyoto
December 14, 2009
Nissha Printing Co.,Ltd.
The large-scale art event " AMUSE ART JAM 2009 in Kyoto", planned by Amuse Inc., was held at The Museum of Kyoto on December 11 and 12, 2009.

This event, which was held for the 8th time this year, is a large-scale art competition that has gathered a total of more than 6,000 submissions and 70,000 visitors on the seven previous occasions on which it was held.
We have co-sponsored this event since 2004, establishing the Nissha Award (sponsor's Award) and supporting the activities of young artists.
The Nissha Award went this year to Reinei Chou.
The theme of Ms. TYOU's work is an invigorating landscape that makes the viewer feel the wind.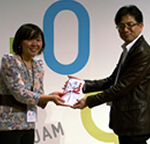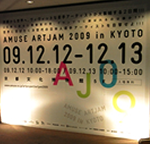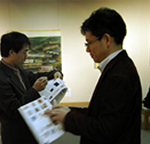 - The content of the web is information at press time, may change thereafter without notice. Due to risks and uncertainties, predictions may differ from actual results. Please be forewarned.
- "Nissha" is a generic name of Nissha Co., Ltd. and "Nissha Group" is a Nissha Co., Ltd. and its group companies.