Sponsoring of the "The Power of Dogu"
December 15, 2009
Nissha Printing Co.,Ltd.
We are an official corporate sponsor of the "The Power of Dogu" exhibition being held at the Tokyo National Museum from December 15, 2009 to February 21, 2010.

The dogu clay figures, which take a variety of shapes, are also known as "sculptures of prayer" and have received high acclaim around the world as works of art that express the spiritual world and ways of belief of the people of the Jomon Period.
This exhibition is being held to commemorate the return to Japan of "The Power of Dogu," which was held at the British Museum in England until November 22, and has gathered together for display clay figures and related items typical of Japanese culture from the early Jomon Period to the middle of the Yayoi Period.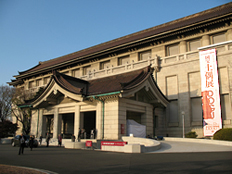 - The content of the web is information at press time, may change thereafter without notice. Planning goals, risks and uncertainties due to the fact, predictions and may differ from actual results. Please be forewarned.
- "Nissha" is a generic name of Nissha Co., Ltd. and "Nissha Group" is a Nissha Co., Ltd. and its group companies.