Exhibition in "SID 2010"
May 25, 2010
Nissha Printing Co.,Ltd.
Nissha will enter a booth at the SID 2010 exhibition, which is to be held at the Washington State Convention Center in Seattle (Washington), United States between May 25 and May 27, 2010.
SID (The Society for Information Display) is held annually and is the world's largest symposium and exhibition on information displays, allowing people to discover cutting edge ideas and recent trends in the FPD industry.
Nissha will target to integrate function and decoration to make touch input more comfortable and easy to use. Nissha will exhibit our latest touch technology focusing 3D touch.
Summary of Exhibition
Name of Exhibition: SID 2010 (Hosted by SID)
Our booth: No.1324
Location: Seattle (Washington)
Venue: Washington State Convention Center
Dates: May 25 - May 27, 2010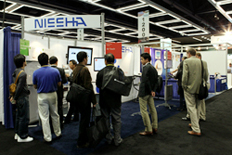 - The content of the web is information at press time, may change thereafter without notice. Planning goals, risks and uncertainties due to the fact, predictions and may differ from actual results. Please be forewarned.
- "Nissha" is a generic name of Nissha Co., Ltd. and "Nissha Group" is a Nissha Co., Ltd. and its group companies.