Awarded with the SILVER AWARD at The 2009 Vision Awards Annual Report Competition organized LACP
July 22, 2010
Nissha Printing Co.,Ltd.
Our "Ingenuity, a response to change Annual Report 2009" won the SILVER AWARD("OVERALL" and "BEST IN-HOUSE REPORT") at The 2009 Vision Awards Annual Report Competition organized LACP(League of American Communication Professionals). We won the awards for two consecutive years.

Judge's Comments :
"We love this book because of how contemporary the design and layout is.This reflects on the organization, suggesting an environmental focused and in touch with the latest trends and developments within the industry.Excellent"
"A wonderful report narrative. Excellent presentation and overall communications. One of the best this year."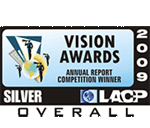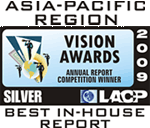 - The content of the web is information at press time, may change thereafter without notice. Planning goals, risks and uncertainties due to the fact, predictions and may differ from actual results. Please be forewarned.
- "Nissha" is a generic name of Nissha Co., Ltd. and "Nissha Group" is a Nissha Co., Ltd. and its group companies.