Main Hall of Nissha Printing Co., Ltd. Registered as a Tangible Cultural Asset
December 12, 2011
Nissha Printing Co.,Ltd.
After deliberations held on December 9 in the Cultural Affairs Council Subcommittee on Cultural Assets of the Cultural Affairs Agency, a building on the head office premises of Nissha Printing Co., Ltd. (hereafter, Nissha) was registered as a tangible cultural asset.
The building was constructed in 1906 and had been used as the main building of the head office until 1980. With preservation work completed in December 2008, the building is currently called the "Main Hall" and is used to display valuable artifacts and references which trace the history of printing technologies as well as the footsteps of Nissha.
*The main hall is not open to the public.

History of the Main Hall
1906 Constructed as an administration building for Kyoto Menneru Co., Ltd.
1929 Naoki Suzuki established a printing business at his home.
1946 Nissha Printing Co., Ltd. was established.
1947 Rented Main Hall and factory premises from Shimadzu Corporation and purchased the following year.
2008 Completed Main Hall preservation and repair project and held completion ceremony.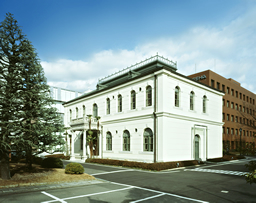 - The content of the web is information at press time, may change thereafter without notice. Planning goals, risks and uncertainties due to the fact, predictions and may differ from actual results. Please be forewarned.
- "Nissha" is a generic name of Nissha Co., Ltd. and "Nissha Group" is a Nissha Co., Ltd. and its group companies.