Starting operation of the Facebook page "ToroQ Drug Consultation Room," a site where registered sellers can interact
February 20, 2012
Nissha Printing Co.,Ltd.
Utilizing its know-how of supporting enterprise social media strategy totally from the planning to the operation, Nissha Printing Co., Ltd. (hereinafter Nissha) has begun operating the Facebook page ToroQ Drug Consultation Room, a SNS site for registered sellers*1 with Net Piloting Inc. (hereinafter Net Piloting)*2 on January 30, 2012.
From now on, Nissha and Net Piloting will introduce features and services that target pharmaceutical manufacturers, and aim to offer services that benefit all of registered sellers, pharmaceutical manufacturers, and general consumers.

Background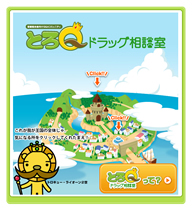 Net Piloting set up ToroQ Drug Consultation Room in January 2009 and was operating it using its own domain, as a membership SNS for registered sellers. To enhance convenience for all registered sellers, expand services and begin offering services to general consumers, it decided to migrate it to the platform of Facebook.
Nissha and Net Piloting created the Facebook page ToroQ Drug Consultation Room based on the know-how in providing support for promotions and marketing for pharmaceutical manufacturers and drug stores and information services. We have begun jointly operating this Facebook page.

Details of services
For registered sellers
Operators will post information helpful to registered sellers on the wall, sometimes in a friendly way with characters such as Lion II or Mr. Elephant.
On the wall, the registered sellers can to gather or provide information on OTC drugs, offer consultations on issues and worries about the business, or resolve them, and have exchange among the participating registered sellers, pharmacists and characters.
The staff operating this site include pharmacists, and they can answer technical questions posed by registered sellers.
In the Learning Room, the registered sellers can increase their specialized knowledge.
In the closed space Friends Room, the registered sellers can deepen exchange with other registered sellers who have become friends.
* This service is free of charge. In order to participate, you must have an account on Facebook.
For general consumers
You can ask technical questions about OTC drugs to participating registered sellers or pharmacists through the application dedicated for use in Q&A sessions.
*This service is free of charge. In order to participate, you must have an account on Facebook.
*The Q&A application is suitable for PC.

For pharmaceutical manufacturers (example of service)
You can offer product information on OTC drugs to, and conduct questionnaires, monitoring surveys and sampling on, participating general consumers and registered sellers.
* A fee is charged for this service. In addition, it is scheduled to start around June or July 2012. For more information, please contact the contact point for inquiries.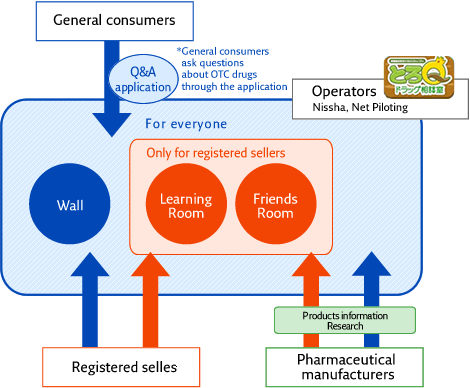 Future Development
Nissha and Net Piloting will aim to establish a position as a niche medium that can appeal to registered sellers and expand the various services to be offered to pharmaceutical manufacturers.
Nissha and Net Piloting will develop quality services tailored to the needs of the registered sellers and increase the number of fans.
Nissha and Net Piloting plan to introduce services in stages for pharmaceutical manufacturers. At the end of May 2012 Nissha will post a news release on this website that gives a specific start date.

*1 Registered sellers
Persons having an official certification or qualification to sell class two or class three drugs (OTC drugs such as cold medicine and analgesics) in pharmacies and drug stores.
*2 Overview of Net Piloting Inc.
President: Kotaro Yamada
Headquarters: 1-10-14 Shinkawa, Chuo-ku, Tokyo
Capital: 814,090 thousand yen
Details of business: Construction, operation and provision of databases and knowledge bases; Planning, construction and operation of bisiness supprt system (business process outsourcing); planning, construction and operation of enterprise information portals (EIP) (package sales and ASP provision); planning, construction and operation of e-learning systems; planning and production of information distribution-type e-content (SmartCom.®); and planning, implementation and analysis of retail research (buyer surveys).
- The content of the web is information at press time, may change thereafter without notice. Planning goals, risks and uncertainties due to the fact, predictions and may differ from actual results. Please be forewarned.
- "Nissha" is a generic name of Nissha Co., Ltd. and "Nissha Group" is a Nissha Co., Ltd. and its group companies.