Development and commencement of sales of "AKARIE" lighting using dye-sensitized solar cells
September 12, 2012
Nissha Printing Co.,Ltd.
Nissha Printing Co., Ltd. has developed and begun sales of the "AKARIE" off-grid lighting equipment using EneLEAF (dye-sensitized solar cells developed jointly with the Shimane Institute for Industrial Technology). The EneLEAF in the "AKARIE" generates electricity during the daytime and the LED inside it lights up at night. The device therefore contains the three functions of electricity generation, electricity storage and light emission, so electrical work is not necessary for its installation. Furthermore, using the characteristic design possibilities of the EneLEAF, the LED lights up the picture on the surface of the product when it is switched on.
The Ohsho Food Service Corporation has been the first to adopt the "AKARIE" launched this time and the product has been installed at the company's new Higashi-Kanagawa Station West Exit Branch, which was opened on 17th August.
*AKARIE is a trademark of Nissha Printing Co., Ltd.
*EneLEAF is a registered trademark or a trademark of Nissha Printing Co., Ltd.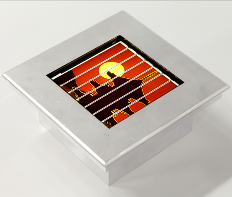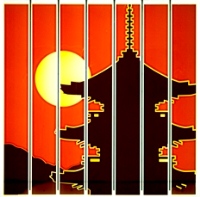 "AKARIE" specifications
Product name
AKARIE
Size/ Weight
Size: 200 mm(W) × 200 mm(D) × 85 mm(H)
Weight: 3.7 kg
Charge time/ Lighting time
Charge time: Approx. 2 hours (when fine weather)
Lighting time: Approx. 15 hours
*There are certain restricting conditions depending upon the climate and design.
Luminance
Approx. 10 candela
Suggested retail price
200,000 yen (excluding consumption tax)
Other
・Off-grid (stand-alone power supply system) specification with electricity generation by the dye-sensitized solar cells on the surface and the lighting up of built-in LED.
・The design of the dye-sensitized solar cells can be customized.
・No electrical work is necessary for the installation.
*There are certain restricting conditions regarding the design.
Future development
"AKARIE" contains a stand-alone power supply system using solar light and therefore has high environmental performance. Also, by using the design possibilities of the dye-sensitized solar cells, it is possible to offer customers lighting which is environmentally friendly and has a superior design.
In the highly energy consuming food-service industry, there is increasing interest in products with superior environmental performance, as the social environment demands the use of renewable energy sources and/or reduced energy consumption. With this as a background, we anticipate a certain amount of demand for the "AKARIE" we have developed, which combines both environmental and design characteristics. Our achievement target for the future is for 200 million yen in sales (1,000 items sold) in fiscal year 2015.
Inquiries regarding AKARIE
Corporate Technology Research & Development
- The content of the web is information at press time, may change thereafter without notice. Planning goals, risks and uncertainties due to the fact, predictions and may differ from actual results. Please be forewarned.
- "Nissha" is a generic name of Nissha Co., Ltd. and "Nissha Group" is a Nissha Co., Ltd. and its group companies.