Nissha received the Silver award etc. for proposal in the 2012 Nationwide Company Magazine Proposal Competition
November 16, 2012
Nissha Printing Co.,Ltd.
In October 5, 2012, Nissha Group's company magazine "IN" received awards for 2 proposals - the Silver Award and the Incentive Award in the special topic field - in the 2012 Nationwide Company Magazine Proposal Competition.

The "Nationwide Company Magazine Proposal Competition" is a competition of company magazines held once a year by Nana Corporate Communication. Company magazine specialists review the contents of the proposals. A total of 361 proposals were submitted to this year's competition, the 11th.

The company magazine "IN" is a quarterly magazine written in Japanese and English issued by the Corporate Communications of Nissha Printing Co., Ltd. (hereinafter called Nissha). Since July 2007 when it was first published, it has been distributed to all members of the Nissha Group. Nissha, a printing company, does everything about the magazine including proposing and editing as well as producing, photographing and printing.

For the awards we received this time, we were given feedback from judges that "difficult contents were explained in an understandable way to enlighten employees about financial knowledge and promote change of their way of thinking" and "it was so like a printing company to have refined beauty in its layout and design".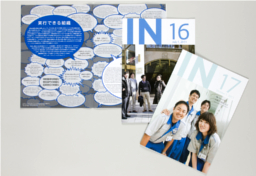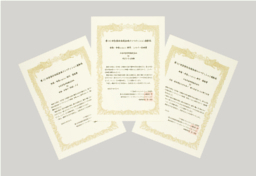 - The content of the web is information at press time, may change thereafter without notice. Due to risks and uncertainties, predictions may differ from actual results. Please be forewarned.
- "Nissha" is a generic name of Nissha Co., Ltd. and "Nissha Group" is a Nissha Co., Ltd. and its group companies.