Nissha has successfully developed Nissha PAX, the pulp molding technology with both eco-friendliness and good design realized
November 7, 2012
Nissha Printing Co.,Ltd.
Nissha Printing Co., Ltd. has successfully developed a pulp molding simultaneous decoration technology using the PIM (pulp injection molding). Pulp molding products molded in this newly developed technology consist of 90% or more natural materials. Additionally, this technology has characteristics that enable production of pulp molding products with eco-friendliness and good design realized, which are not characteristic to the existing pulp molding products, by insert molding of a special paper called FiberForm decorated by offset printing.

*Nissha PAX is a registered trademark or a trademarks of Nissha Printing Co., Ltd.
*PIM is a registered trademark or a trademarks of DAIHO INDUSTRIAL CO., LTD. (Head Office: Moriguchi-city, Osaka prefecture).
*FiberForm is a registered trademark or a trademarks of Billerud AB (Head: Stockholm, Sweden)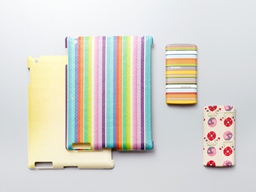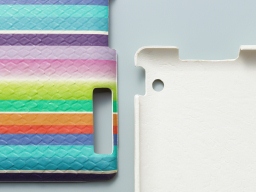 Background of development
Pulp molding products are paper molding products originated from pulp. They have been used widely as packaging/buffering materials and various containers. They are made from pulp, but the existing pulp molding products are not always friendly to the environment because they contain chemicals such as additives for strength increase and coagulant agents for molding. Additionally, existing pulp molding products cannot be decorated just like plastic molding products are done.
In recent years, manufacturers and consumers have been more conscious of the environment and good design products to be replacements for the present resin packages and miscellaneous goods are demanded. In order to meet the needs, we have developed this pulp molding technology taking advantage of the IMD and IML technologies we have cultivated.

Features of Nissha PAX
Advantages
・Paper specific texture and good design
・Recyclable as paper
・Biological breakdown: broken down in soil for about 6 months
・Dimensional accuracy and strength are almost equal to those of general resin products
・Light specific weight (approx. 0.85)

Disadvantages
・Weak against high temperature and humidity (size distortion due to moisture absorption: ±0.5%)
・Welded sections have lower strength (risk of insect and animal damage)

- The content of the web is information at press time, may change thereafter without notice. Planning goals, risks and uncertainties due to the fact, predictions and may differ from actual results. Please be forewarned.
- "Nissha" is a generic name of Nissha Co., Ltd. and "Nissha Group" is a Nissha Co., Ltd. and its group companies.