Workshops for elementary school children held in collaboration with an NPO
March 14, 2013
Nissha Printing Co.,Ltd.
Nissha Printing Co., Ltd. conducts Machikusa workshops for elementary school children, in collaboration with the non-profitable organization Kids Meet Artists (representative: Haruka Idegami).

These workshops are held with the purpose of developing in children an interest in the environment and unleashing their creativity and imagination. Under the guidance of Shinpei Shigemoto, who initiated the Machikusa, children observe and study weeds (Machikusa), that generally go unnoticed in our daily lives. They give each weed an interesting name of their choice. In fiscal year 2013, Machikusa workshops were held in two elementary schools in Kyoto City, Japan, where Nissha is headquartered.

Fifty third-grade students attended the three-day workshop conducted at the Kyoto City Suzaku Dai Nana Elementary School (Nakagyo-ku, Kyoto City; Principal: Naoyuki Kondo) on December 5 and 6, 2012 and January 18, 2013.

The children used digital cameras to photograph weeds growing wild on the school premises and gave them unique and interesting names, such as 'Gunyagunyaso (crooked back)' and 'Harugakuruzo (harbinger of spring).' On the third day, Nissha presented the children with Machikusa Maps, leaflets showing the location of different weeds identified by the children. Further, Shigeru Matsutani, director emeritus of the Kyoto Botanical Gardens, made an exciting presentation titled "The Survival Strategies of Plants," using several real plant samples.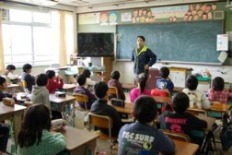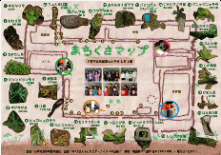 At the Ritsumeikan Primary School(Kita-ku, Kyoto City; Principal: Kyoko Ukita), iPads were utilized for the first time at the Machikusa workshop conducted on January 23 and 25, 2013, and attended by 120 first graders on both days. After photographing weeds with an iPad, the children used a drawing app to incorporate letters and drawings into their photos and create original works. On the second day, a Machikusa Exhibition was organized and iPads were again used to showcase each piece of work. Although the pictures were of weeds growing on the same school premises, each one of them was highly individualistic, and drew loud applause.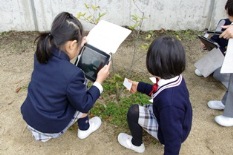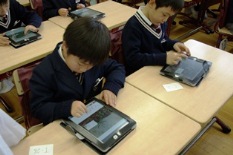 In its Basic Social Contribution Policy, Nissha has identified "environmental protection", and "next generation support" as two main areas of social contribution. Looking ahead, we will continue to carry out activities in these areas, while engaging in closer communication with local communities.
*iPad is a registered trademark or trademark of Apple Inc., in the U.S. and other countries.
- The content of the web is information at press time, may change thereafter without notice. Planning goals, risks and uncertainties due to the fact, predictions and may differ from actual results. Please be forewarned.
- "Nissha" is a generic name of Nissha Co., Ltd. and "Nissha Group" is a Nissha Co., Ltd. and its group companies.