PATinKyoto Print Art Triennale 2013 in Kyoto Opens
Fumiko Takeda, a Printmaker in Tokyo, Receives Special Award
March 8, 2013
Nissha Printing Co.,Ltd.
PATinKyoto Print Art Triennale 2013 in Kyoto opened at Kyoto Municipal Museum of Art (Sakyo-ku, Kyoto) on February 23rd (Sat), 2013. The opening had been preceded by a private show, an award ceremony and a reception on the 22nd (Fri).
While most art competitions invite entries from the public, the Triennale is unique in that entries are recommended by commissioners who have a keen artistic sense and are well informed about printmaking. Also, for exhibition, each artist is provided with a 10 m long wall or a floor area of 50㎡. Thanks to this relatively wide space, artists can exhibit a series of works or a large installation-style work.
At the private show, works of 21 artists were exhibited which expressed the world view of their creator, taking advantage of the wide space. At the following award ceremony, the Grand Prix, the Award for Excellence and the Special Award, from Nissha Foundation for Printing Culture and Technology, were presented to awardees. Fumiko Takeda, an artist living in Tokyo, received the Special Award. She was presented with a certificate of merit and an auxiliary prize by President Suzuki (Chairman of the Board of Directors of Nissha Foundation for Printing Culture and Technology) who also serves as Vice Chairman of the Executive Committee for PATinKyoto Print Art Triennale in Kyoto.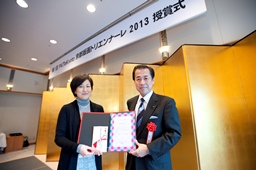 Outline of the Triennale
Name of event

PATinKyoto Print Art Triennale 2013 in Kyoto

Period of event

From February 23 (Sat) to March 24 (Sun), 2013 (9:00 a.m. - 5:00 p.m.)
* Closed on Mondays
Venue

Kyoto Municipal Museum of Art (1F of Main Building) (entrance fee: 700 yen for general visitors, 500 yen for university and high school students)

Official web site

PATinKyoto Print Art Triennale 2013 in Kyoto
Fumiko Takeda's biography
1963 Born in Tokyo
1991 M.F.A. Design, Tokyo University of the Arts University purchases prize
1993 The 2nd International Biennale of Prints in Kochi Selected
1994 Award Exhibition Prints Sponsor's Prize MIYAKO Gallery, Osaka
1995 The 3rd SAPPORO INTERNATIONAL PRINT BIENNALE EXHIBITION Sponsor's Prize, Hokkaido
1997 The Royal Academy Illustrated A Souvenir of the 229th Summer Exhibition The Royal Academy of Art, London, U.K.
1999 The 23rd Biennial of Graphic Art Ljubliana Exhibition invitation, Slovenia
2000 Solo Exhibition, "Exhibition copperplate" Homma Museum, Sakata-city, Yamagata
2001 Contemporary Art Exhibition selection Agency for Cultural Affairs/The Ueno Royal Museum, Tokyo
2003 Exhibition representation and techniques Nerima Art Museum, Tokyo
2003 THE 11TH INTERNATIONAL BIENNIAL PRINT AND DRAWING EXHIBITION 2003 R.O.C TAIWAN MUSEUM OF ART, TAIWAN
2005 Seoul International Prints, Photo & Edition Work Arts Fair Seoul, Korea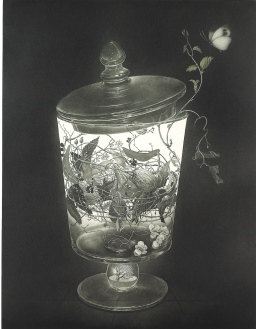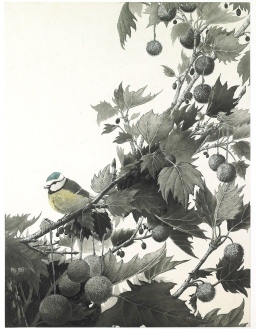 - The content of the web is information at press time, may change thereafter without notice. Planning goals, risks and uncertainties due to the fact, predictions and may differ from actual results. Please be forewarned.
- "Nissha" is a generic name of Nissha Co., Ltd. and "Nissha Group" is a Nissha Co., Ltd. and its group companies.