Japan's first! Nissha to start an advanced material library management and consulting service
- Signed license agreement with Material ConneXion -
April 5, 2013
Nissha Printing Co.,Ltd.
Nissha Printing Co., Ltd. (hereinafter referred to as "Nissha") signed a license agreement with regard to library management and consulting on advanced materials for designers with Material ConneXion on March 18, 2013. This library offers access to a database that allows creatives from the most diverse disciplines to search for advanced materials stored by Material ConneXion according to category and a library where they can actually examine the materials by hand. Furthermore, in consulting, a staff of specialists will provide knowledge and support on everything from surveys of materials that match the needs of companies, to joint development with material manufacturers. The companies plan to open the library around October 2013 and to manage it jointly with FEEL GOOD creation Inc. (hereinafter referred to as "FGc").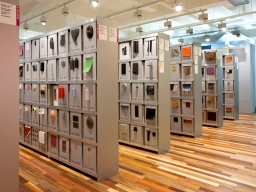 About the library
Name

Material ConneXion Tokyo

Location

Tokyo

Date of opening

Scheduled for October 2013

サービス内容

Provision of a database that designers can use to search for advanced materials by category
Management of a library where creative from all disciplines can examine and touch advanced materials
Material information provision services for brand manufacturers and commercialization support
Material information PR services for material manufacturers and application development support
About Material ConneXion
Material ConneXion, a SANDOW company, is a global materials and innovation consultancy that helps companies create the products and services of tomorrow through smart materials and design thinking. Focused on delivering Innovation That Matters, Material ConneXion is the trusted advisor to Fortune 500 companies, as well as forward-thinking companies or government agencies seeking a creative, competitive or sustainable edge. With 10 locations in New York, Milan, Cologne, Bangkok, Seoul, Daegu, Istanbul, Beijing, Shanghai and Skövde, Material ConneXion's international network of specialists provides a global, cross-industry perspective on materials, design, new product development, sustainability and innovation. Material ConneXion maintains the world's largest subscription-based Materials Library of almost 7,000 innovative materials and processes—an indispensable asset to a wide audience of users. Its sister company, Culture + Commerce, represents the world's leading designers including Philippe Starck and Marcel Wanders, in licensing their groundbreaking new products and projects.
| | |
| --- | --- |
| Name | Material ConneXion |
| Location | New York |
| Date of establishment | February, 1997 |
| Name of representative | Adam Sandow, CEO, Michele Caniato, President, George M. Beylerian, Founder, Andrew Dent, Ph.d Material Scientist. |
| Business description | Consulting on materials and library management |
| Web site | http://www.materialconnexion.com/ |
About FGc
FGc has established the new design concept of CMF design (color, material and finish) so that Japanese manufacturing becomes more beautiful, and assists the creation of things that are valued for longer and more deeply.
| | |
| --- | --- |
| Name | FEEL GOOD creation Inc. |
| Location | Shibuya-ku, Tokyo |
| Date of establishment | October, 2007 |
| Name of representative | Miyuki Tamai |
| Business description | Design and planning of products, interior products and spaces, etc., CMF design, direction, consulting, and support for material and processing development (CMF design, consulting) |
| Web site | http://feelgood-c.com/ |
- The content of the web is information at press time, may change thereafter without notice. Planning goals, risks and uncertainties due to the fact, predictions and may differ from actual results. Please be forewarned.
- "Nissha" is a generic name of Nissha Co., Ltd. and "Nissha Group" is a Nissha Co., Ltd. and its group companies.