Cosponsor of workshop Kyoto Rakuhoku Machikusa Mikke! (Wild-Plant Hunt in Rakuhoku, Kyoto)
June 4, 2013
Nissha Printing Co.,Ltd.
Nissha Printing Co., Ltd. cosponsored the workshop Kyoto Rakuhoku Machikusa Mikke! (Wild-Plant Hunt in Rakuhoku, Kyoto) organized by the Kyoto Rakuhoku Moritomizunokai on Tuesday, May 7, 2013. The third workshop of its kind was held at Kyoto Ohara Gakuin (Principal: Yasuhiro Kawakatsu), a short walk from Sanzen-in Temple in the Sakyo Ward of Kyoto. Eight third-grade and six fourth-grade students attended, for a total 14 participants.

Machikusa is a coinage of artist Shinpei Shigemoto. It refers to weeds growing around town that generally go unnoticed in daily life. Children observe and study these weeds, and give each an original name of their choice. The workshops are designed to foster the children's imagination and creative expression, and to deepen their interest in the environment.

With guidance from Mr. Shigemoto, aka Doctor Machikusa, the students of Kyoto Ohara Gakuin went hunting for weeds in the school-owned farm nearby. After finding their favorite weed, naming it, and using a digital camera to photograph it, they made presentations in the classroom. A cluster of hanging blades of grass was "Kusa no taki" (Waterfall). Ferns peeping through a slit between boards were "Hashi no aida no kappa no kasa" (Shady Spot on the Bridge). Unique names like these drew cheers of praise. Afterward, the children made their photographs into Machikusa cards.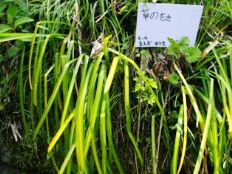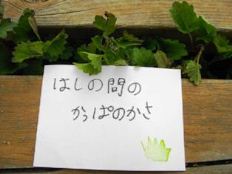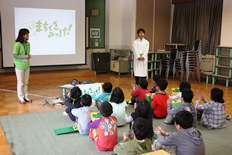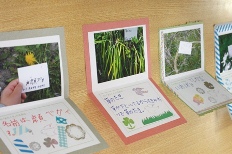 The children's activities were introduced on Kyoto's KBS radio station.

Nissha Printing plans to continue in its efforts to promote communication with local communities and support future generations.

* Machikusa workshops are planned and executed by the non-profit organization Kids Meet Artists (Representative: Haruka Idegami).

- The content of the web is information at press time, may change thereafter without notice. Planning goals, risks and uncertainties due to the fact, predictions and may differ from actual results. Please be forewarned.
- "Nissha" is a generic name of Nissha Co., Ltd. and "Nissha Group" is a Nissha Co., Ltd. and its group companies.