IMD has been adopted in Fit RS sport model by Honda
November 18, 2013
Nissha Printing Co.,Ltd.
IMD
is featured in the interior components of the new Fit RS (Road Sailing) sport model by Honda Motor Co., Ltd. Designs unique to IMD combining geometric motifs (polka dots) with metal foil lines play a great role in creating a sporty, sophisticated cabin.
IMD is used in a total five components of the Honda Fit RS: the instrument panel, and the ornamental parts of each of the four doors.
*Honda Fit: Upon initial release in 2001, the model was awarded Car of the Year Japan. It remains immensely popular today, continuing to hold a spot on the annual list of best-selling passenger cars for its spacious interior that defies the conventions of a compact car and its excellent mileage.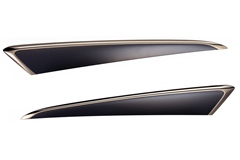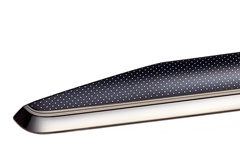 - The content of the web is information at press time, may change thereafter without notice. Planning goals, risks and uncertainties due to the fact, predictions and may differ from actual results. Please be forewarned.
- "Nissha" is a generic name of Nissha Co., Ltd. and "Nissha Group" is a Nissha Co., Ltd. and its group companies.