Nissha won the 2013 Nikkei Superior Products and Services Awards
January 6, 2014
Nissha Printing Co.,Ltd.

The Capacitive-type Touch Panel
, which is a core product of Nissha Printing Co., Ltd., won the Nikkei Business Daily Awards for Superiority at the 2013 Nikkei Superior Products and Services Awards.
The Nikkei Superior Products and Services Awards are given by Nikkei Inc. to products and services that are evaluated six*
1
aspects as having particularly excellent quality from among the new products and services that appeared in the company's newspapers from January to December 2013. The award started back in 1982, and this year marks the 32nd.
The award-winning product, Capacitive-type Touch Panel is an exclusive touch panel which was generated by the combination of film materials, that are lighter materials than glasses, and the photolithography*
2
process, that makes possible to form the lines in the circuit and the spaces between them narrower. Because of its lightness and thinness, our touch panel meets customer needs throughout the world to make smartphones or tablet devices thin and light.
*
1
Excellent in technology development, Cost-effectiveness, Contributory to business performance, Growth potential, Uniqueness, Commercial impact and social impact
*
2
Photolithography is a technology that forms high precision patterns by exposing the surface of a substance coated with photo-sensitive material (resist) to intensive light. In the photolithography process, the printmaking technology that the company has cultivated over many years is used.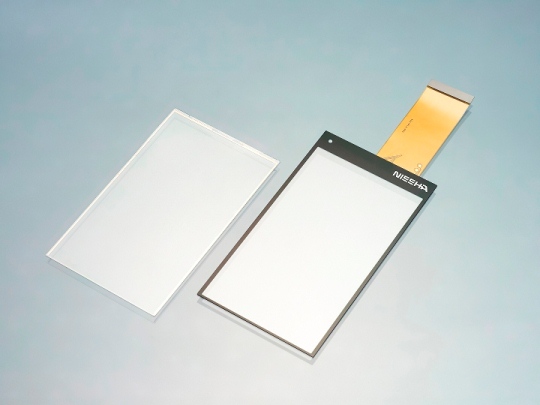 - The content of the web is information at press time, may change thereafter without notice. Due to risks and uncertainties, predictions may differ from actual results. Please be forewarned.
- "Nissha" is a generic name of Nissha Co., Ltd. and "Nissha Group" is a Nissha Co., Ltd. and its group companies.