Hydrogen Detectors Adopted in Toyota Fuel Cell Vehicle Mirai
—Realizing Fast Startup and Long Service Life
December 16, 2014
Nissha Printing Co.,Ltd.
Hydrogen detectors developed by FIS Inc., a group company of Nissha Printing Co., Ltd., have been adopted in the fuel cell vehicle Mirai released on December 15, 2014, by Toyota Motor Corporation.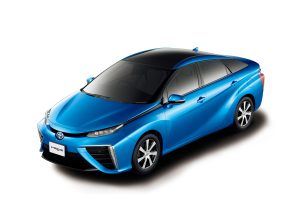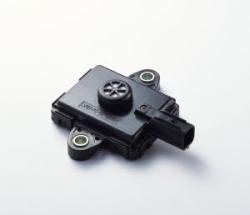 Hydrogen detectors
Hydrogen detectors are devices designed for hydrogen leak detection. Mirai is fitted with two, which will immediately activate and issue an alert in the event of a hydrogen leak.
The Japanese Ministry of Land, Infrastructure, Transport and Tourism (MLIT) requires hydrogen detectors to be installed as a standard feature of fuel cell vehicles fueled by hydrogen.*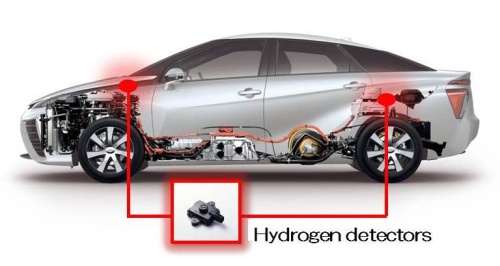 * Positions in the illustration are for explanatory purposes only. They do not represent actual system positions.

* Reference: Notice of Details Regarding Safety Regulations for Road Transport Vehicles (June 23, 2011)
Excerpt from Attachment 100: Technical Standards for Fuel Systems of Motor Vehicles Fueled by Compressed Hydrogen (Source: MLIT)
3.9.1. At least one device for detecting hydrogen gas leaks (hydrogen detector) shall be installed in a position that facilitates detection, such as the upper area of the section fitted with components (excluding integral piping) from the main stop valve to the fuel cell stack (or motor for vehicles other than fuel cell vehicles).

Characteristics of hydrogen detectors
1. Fast startup within 1 second
The hydrogen detectors detect any hydrogen leaks quickly, before the fuel cell vehicle starts up.
The activation and response time is less than one-third that of conventional FIS products.

2. Long service life
The coil-shaped sensing element maximizes the catalyst surface area, extending the sensor's service life by about three times compared to conventional FIS products.

The new compact sensing element developed by FIS works by catalytic combustion—it detects rises in combustion temperature caused by contact between the catalyst electrodeposited on the platinum wire and the hydrogen. The establishment of this electrodeposition method resolves the conflicting challenges of minimizing size and maximizing catalyst surface area, realizing quick detection and durability.
The outcome of joint development with Toyota Motor since 2006 is a welcome safety measure for the vehicle that runs on hydrogen.


Future initiatives
Nissha looked at gas sensors as a promising new technology to follow our touch sensors in the Devices business. We welcomed FIS into the group as a wholly owned subsidiary in June 2014. FIS offers advanced sensing technologies and a lineup of products including sensors for gas alarms and air purifiers, halitosis analyzers, and breath alcohol checkers.
In future, the Nissha Group will expand applications not only to fuel cell vehicles but also to infrastructures such as home fuel cells and hydrogen stations, as well as accelerate specific efforts to create new business domains including the medical field.

FIS overview
Name: FIS Inc.
Location: Itami-shi, Hyogo, Japan
Established: November 20, 1992
President: Takao Hashimoto
(Director, Member of the Board, Senior Executive Vice President and Chief Technology Officer, Nissha Printing Co., Ltd.)
Capital: 320 million yen

Exhibition
FIS will exhibit the hydrogen detector at the 11th International Hydrogen & Fuel Cell Expo.
International trade show of technologies, components and materials, devices, and fuel cell systems required for hydrogen and fuel cell R&D and manufacturing.

Exhibition name: 11th International Hydrogen & Fuel Cell Expo (FC EXPO 2015)
Dates: February 25–27, 2015
Venue: Tokyo Big Sight

- The content of the web is information at press time, may change thereafter without notice. Planning goals, risks and uncertainties due to the fact, predictions and may differ from actual results. Please be forewarned.
- "Nissha" is a generic name of Nissha Co., Ltd. and "Nissha Group" is a Nissha Co., Ltd. and its group companies.