Sponsoring of the exhibition "Hori Fumiko Retrospective: Unending Journey"
April 27, 2015
Nissha Printing Co.,Ltd.
Nissha Printing Co., Ltd. is a cosponsor of the " Hori Fumiko Retrospective: Unending Journey " in Hyogo Prefectural Museum of Art.
In this exhibition, works by the Nihon-ga (Japanese-style painting) painter Hori Fumiko (born in 1918) are exhibited.

Hori has said that discovery and surprise are the driving forces behind creation. In this exhibition, they present the work and a portrait of the woman behind it through a collection of some 130 pieces, including Hori's most recent efforts. Based on the theme of what she herself has called a "transient lifestyle," we trace the trajectory of Hori's over 80-yrear career, founded on the principles of "never joining," "never becoming familiar," and "never relying," and her constant desire to find new simulation and continue traveling without remaining in one place or style.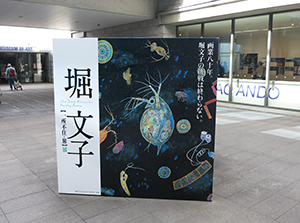 - The content of the web is information at press time, may change thereafter without notice. Planning goals, risks and uncertainties due to the fact, predictions and may differ from actual results. Please be forewarned.
- "Nissha" is a generic name of Nissha Co., Ltd. and "Nissha Group" is a Nissha Co., Ltd. and its group companies.