Exhibits Halitosis analyzer "OralChroma" at CDA Presents Anaheim 2016
April 28, 2016
Nissha Printing Co.,Ltd.
Nissha Printing Co., Ltd. (hereinafter "Nissha") group company
Nissha USA, Inc.
(hereinafter "Nissha USA") will exhibit product samples of Halitosis analyzer "
OralChroma
" at CDA Presents Anaheim 2016 to be held from May 12 to 14 at Anaheim Convention Center, Anaheim, California. CDA Presents Anaheim 2016 is one of the top dental conventions in the USA.
The OralChroma is the product of Nissha group company
FIS Inc.
Three major halitosis components are hydrogen sulfide, methyl mercaptan, and dimethyl sulfide.The OralChroma measures Volatile Sulfide Components (VSC) in the breath and separates them into the above three components. About 1400 sets of OralChroma have been supplied to dentists, universities, and laboratories in the world since 2002.
Nissha USA will expand sales of OralCroma in the North American market where demand is anticipated more.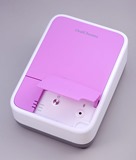 Exhibition overview
Name
CDA Presents Anaheim 2016
Period and venue
May 12 -14, 2016
9:30-17:30 (Until 16:30 on May 14)
Anaheim Convention Center
800 W Katella Ave
Anaheim, CA 92802-3496
Items to be displayed
Halitosis analyzer "OralChroma (CHM-2)"
Official Website
CDA Presents Anaheim 2016
Related Information
- The content of the web is information at press time, may change thereafter without notice. Planning goals, risks and uncertainties due to the fact, predictions and may differ from actual results. Please be forewarned.
- "Nissha" is a generic name of Nissha Co., Ltd. and "Nissha Group" is a Nissha Co., Ltd. and its group companies.