Sponsor of Workshop for Children Held at Jakkoin Temple in Ohara, Kyoto
November 18, 2016
Nissha Printing Co.,Ltd.
Nissha Printing Co., Ltd. (hereinafter "Nissha") sponsors the children's workshop Machikusa Mikke! (Wild-plant Hunt) in a continuous effort since fiscal year 2010 to meet its commitment to next generation support set forth in the Nissha Basic Social Contribution Policy. Organized in collaboration with NPO Kids Meet Artists (Director: Haruka Idegami), the program aims to develop in children an interest in the environment and unleash their creativity and imagination.

In the workshops, children observe weeds (Machikusa) that generally go unnoticed in daily life and grow in the familiar place, guided by artist Shinpei Shigemoto, the Machikusa Designer. The children give these weeds original names of their choice and photograph them with a digital camera. At times they make presentations of each other's newly invented names or print out the photographs and decorate them in original cards.

On October 20, 2016, Nissha sponsored the event, Kyoto Rakuhoku Machikusa Mikke! (Wild-plant Hunt in Rakuhoku, Kyoto), organized by NPO Kyoto Rakuhoku Moritomizunokai composed of shrine and temples in Rakuhoku Kyoto. The workshop was held at Jakkoin Temple, which is a historical nunnery associated with "Heike-Monogatari", and has beautiful moss in the garden harmonized with the nature of Ohara area. Sixteen children from a third grader to a fourth grader in Kyoto Ohara Gakuin (Kyoto Municipal Ohara Elementaly and Junior High School), participated on that day.

At first, Ms. Takizawa Chimyo, Jakkoin Temple chief priest gave a word of greeting on behalf of the event organizer side. And then children jumped out in the garden of Jakkoin Temple with a digital camera of the one per person. They hunted for weeds (Machikusa) and photograph them and gave them original names. After that, children made a presentation of their own machikusa with the original names in the assembly room of the temple. "Happa no Yuhi" (Sunset of the leaf ), "Koneko no chiisana hankachi no otoshimono" (A little handkerchief a kitten lost), "Kusa kagami" (Grass mirror) and etc.; children gave the unique names. Also, children introduced their own story that showed how their Machikusa names were derived from. The participants gave applause to the amazing stories full of imagination. The children made their own Machikusa cards with the Machikusa photographs they took.

Nissha plans to continue in its initiative to support future generations.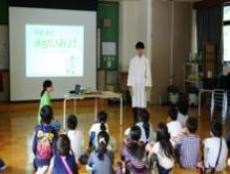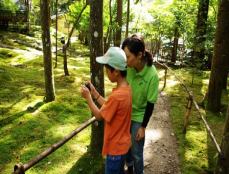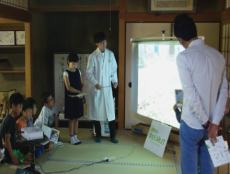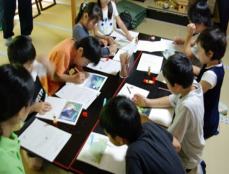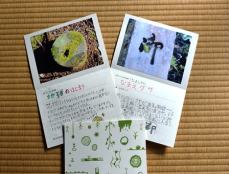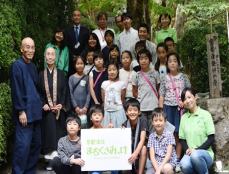 Related Information
Nissha operates a Machikusa Mikke! website introducing the program for children.
- The content of the web is information at press time, may change thereafter without notice. Planning goals, risks and uncertainties due to the fact, predictions and may differ from actual results. Please be forewarned.
- "Nissha" is a generic name of Nissha Co., Ltd. and "Nissha Group" is a Nissha Co., Ltd. and its group companies.