Material Insert: New technology introduced at themed exhibition, "SURFACE MATERIALS"
January 11, 2017
Nissha Printing Co.,Ltd.
Nissha unveils "Material Insert," a technology for highlighting the characteristics of various materials in molded products, at the themed exhibition "Surface Materials -Processing Technologies for Decorating Products-" held at
Material ConneXion Tokyo (MCX) by its operator M Crossing Co., Ltd.
Material Insert creates a film from materials such as cloth and wood, and inserts it into resin by injection molding. The new technology enables natural materials, which were previously considered difficult to employ on product surfaces, to be molded into different shapes. Combined with light-transmitted designs and electrostatic touch-switch functions, both realized through printing, it even contributes to the enhancement of interface designs. Nissha anticipates applications in household electrical appliances and residential fixtures.
Surface Materials showcases other materials and technologies essential to surface decoration and the enhancement of product value, including stainless coloration that realizes unparalleled uniformity, stainless steel wire mesh as thin as film, and 4D printing that invites viewers to touch the surface and see that it's flat. The exhibition is open to the general public without the need for reservations.
*M crossing Co.,Ltd is engaged in management of an advanced material library, "Material ConneXion Tokyo" and also we do consulting as a material specialist.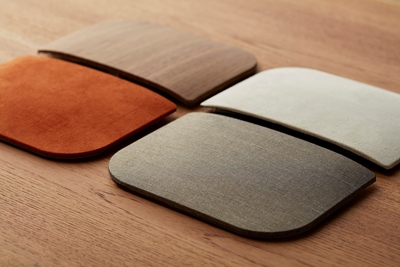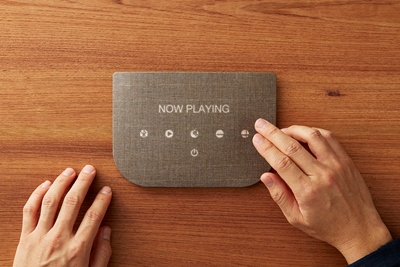 Exhibition overview
Name
SURFACE MATERIALS
-Processing Technologies for Decorating Products-
Period
January 10 to March 27, 10:00 - 18:00 
Closed on Saturday, Sunday and national holidays
*Admission free
Venue
Material ConneXion Tokyo
METLIFE Aoyama Bldg.4th floor, 2-11-16 Minamiaoyama, Minato-ku, Tokyo
- The content of the web is information at press time, may change thereafter without notice. Planning goals, risks and uncertainties due to the fact, predictions and may differ from actual results. Please be forewarned.
- "Nissha" is a generic name of Nissha Co., Ltd. and "Nissha Group" is a Nissha Co., Ltd. and its group companies.