Presentation of the Nissha Printing Award
at the 11th "Supreme Toymaking to Move" Toy Contest GP in KYOTO
January 26, 2017
Nissha Printing Co.,Ltd.
Nissha Printing Co., Ltd. (hereinafter "Nissha") performs activity for the purpose of " next generation support " advocating in the Basic Social Contribution Policy. As the part, Nissha is a cooperator of the Children's Monodzukuri Project in Kyoto run by the Kyoto City Board of Education. In addition to exhibiting in a corporate booth at the Kyoto City Inquiry Learning Center for Career Education, Kyoto Monodzukuri-no-Dendo (Monodzukuri Hall of Fame), Nissha provides teaching materials and programs for the workshops held at the Monodzukuri Workshop. Nissha hopes to cultivate the children's curiosity in "Monodzukuri" which means manufacturing in Japanese.

As the part of these activities, Nissha supported the 11th "supreme toymaking to move" Toy Contest GP in KYOTO (sponsorship: The Children's Monodzukuri Project in Kyoto promotion committee, The Kyoto City Board of Education, others) held in Kyoto Kogakuin Senior High School on January 22, 2017. Nissha provided teaching materials and displayed a corporate booth.

The race with the racing cars and the contest of the performance with the decorated cars which elementary school students produced, were held on a main stage on the day. There were many masterpieces that elementary school students made efforts to produce. And the venue filled with approximately 1,600 people including approximately 700 elementary school students was wrapped in the heat of the participants.

Nissha provided racing car assembling kits and original stickers to beginner section participants. Nissha conferred certificates of merit, trophies, medals on high-ranking prizewinners as "Nissha Printing Award".
In addition, in a corporate booth, Nissha provided the game using the tablet PC with the contents of the business introduction panels as hints on a theme "Let's investigate five mysteries!". Many students came and challenged a game happily with their parents and friends.
Nissha plans to continue in its initiative t support next generations.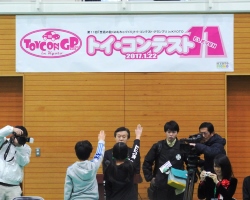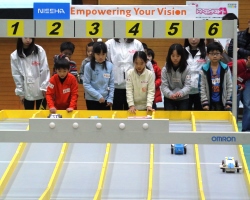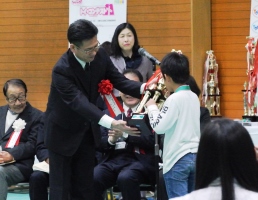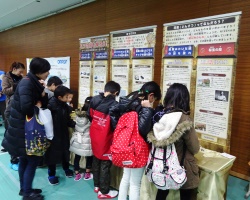 - The content of the web is information at press time, may change thereafter without notice. Planning goals, risks and uncertainties due to the fact, predictions and may differ from actual results. Please be forewarned.
- "Nissha" is a generic name of Nissha Co., Ltd. and "Nissha Group" is a Nissha Co., Ltd. and its group companies.