Sponsoring of the exhibition "The Cosmos in a Tea Bowl:
Transmitting a Secret Art across Generations of the Raku Family"

March 16, 2017
Nissha Printing Co.,Ltd.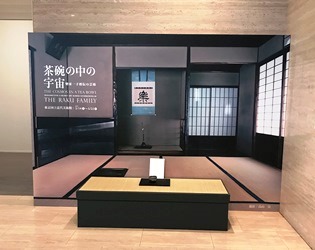 "The Cosmos in a Tea Bowl: Transmitting a Secret Art across Generations of the Raku Family" overview
The Raku ware tradition has continued uninterrupted since the 16th century, beginning with Chojiro, the first head of the Raku family, to Kichizaemon, the current, 15th head of the family. The isshisoden method of transmitting the secrets of an art from father to only one son was adopted as a way of embodying the ideas of Sen no Rikyu's wabi-cha tea ceremony. While witnessing many temporal changes, this fascinating approach, which strikes us as quite odd today, has been maintained without any slackening. Today, some 450 years and 15 generations later, the entire body of Raku ware has even more to convey to contemporary viewers. In a sense, the works seem to be the product of a single artist. Along with pieces by the early 17th century artist Honami Koetsu, a close associate of the Raku family, this exhibition surveys the aesthetic world of Raku ware while also touching on Japan's uniquely spiritual culture.
(*Quotation from this exhibition website)
- The content of the web is information at press time, may change thereafter without notice. Planning goals, risks and uncertainties due to the fact, predictions and may differ from actual results. Please be forewarned.
- "Nissha" is a generic name of Nissha Co., Ltd. and "Nissha Group" is a Nissha Co., Ltd. and its group companies.