Starts Fabric Printing Service
Sublimation Transfer Technique for High-Fidelity Prints and Captivating Space Decoration
April 27, 2017
Nissha Printing Co.,Ltd.
Nissha Group company Nissha Printing Communications, Inc. has launched a printing and processing service for fabric substrates. Combining the intangible asset of color management cultivated through Nissha operations with new technology and new material, the service offers a fresh medium for expressing the customer's attractive graphic designs.
The fabric printing service comes packaged with LED-lit frames. Backlighting enhances the presence and impact of the artwork, creating an eye-catching display. Intended applications included illuminated signs for retail stores and showrooms.
Features of Fabric Printing
Fabric is imprinted with the artwork and illuminated with dedicated LED backlighting. The system produces a sharper display than paper media and consistent color reproduction even in large sizes.
Portable and highly durable, fabric substrates withstand repeated use.
No specialized workers or tools required to set the fabric in place.
Ideal for small lot production.
Ideal for artwork that takes advantage of the supple texture and fine quality of fabric.
Intended Applications
Intended applications include displays for retail store and showroom interiors, and illuminated signs for exhibitions and other events.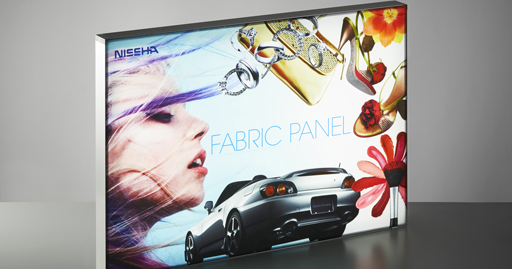 Production Process—Sublimation Transfer Technique
Ink developed for sublimation transfer is used to print the artwork on transfer paper.
The transfer paper and the substrate (fabric) are layered and inserted into a rotating drum transfer machine. The drum applies heat to vaporize the ink, and pressure to transfer and infuse the ink into the fabric.
The fabric is then cut into the size of the product. An automatic laser cutter is used for high precision and to prevent fraying.
To finish, sheets of silicone rubber are sewn onto the fabric for affixing to panels. The specially developed system makes the fabric both durable and attractive.

Prices
The panel is combined with dedicated LED backlighting to complete the product.
Related Information
Inquiry
Please feel free to contact us.
- The content of the web is information at press time, may change thereafter without notice. Planning goals, risks and uncertainties due to the fact, predictions and may differ from actual results. Please be forewarned.
- "Nissha" is a generic name of Nissha Co., Ltd. and "Nissha Group" is a Nissha Co., Ltd. and its group companies.