Nissha Commercializes EnOcean LPWA Long-distance Wireless Sensor
Wireless data transmission requiring no power source, batteries, or cables
June 9, 2017
Nissha Printing Co.,Ltd.
The LPWA long-distance wireless sensor system NSOS-100, developed by Nissha Printing Co., Ltd. (hereinafter "Nissha") and Nissha Group company SiMICS Co., Ltd., has been selected as the production control system of the farmland sensing solution e-Sensing For Agri, provided by Nippon Telegraph and Telephone East Corporation (NTT East). The LPWA long-distance wireless sensor system NSOS-100 requires no power source, batteries, or cables to measure properties of the environment essential to farm produce management —temperature, humidity, illumination, soil temperature, and soil moisture—and send the data to remote locations.
The project represents the world's first instance of commercialization of EnOcean long-distance LPWA communications technology (as of May 2017, based on an in-house study).
Nissha draws on its expertise in sensing technology to combine various sensors with EnOcean wireless communications technology and develop original products and systems that contribute to the streamlining of agriculture.

* LPWA, an acronym of "low power, wide area," is a collective term for long-distance wireless communications technology requiring little power.
* EnOcean is a wireless standard for energy harvesting technology. Nissha and SiMICS are members of the EnOcean Alliance.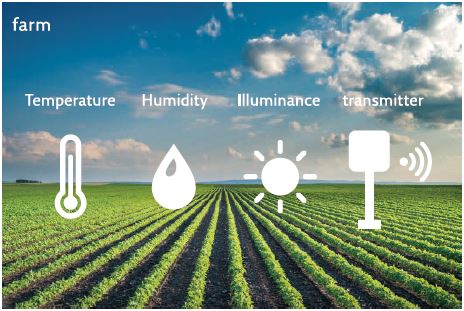 Outline of "e-Sensing For Agri"
Self-powered sensors and wireless communications equipment are set up in farmland. Sensor data such as temperature, humidity, and illumination are collected automatically in the online storage service Flets Azukeru, also offered by NTT East. The data is accessible via a smartphone application and on personal computers. By translating the farmland environment into visible form and providing the sensor data collected as usable information, e-Sensing For Agri supports the improvement of agricultural productivity.
Applications
The Fukushima Mirai branch of the Japan Agricultural Cooperatives (JA-Fukushima Mirai) adopted e-Sensing For Agri in April 2017 for frost protection of fruit trees, as part of its efforts to use the Internet of Things (IoT) for promoting smart agriculture (excerpt from NTT East news release).
Key Features of "LPWA Long-distance Wireless Sensor System NSOS-100"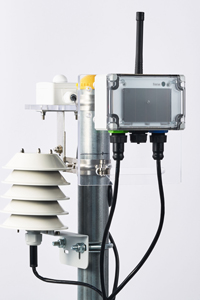 Data collected through sensing technology supports streamlining of agriculture
Energy harvesting technology using built-in compact, lightweight solar panels requires no power source or cables
Set up anywhere with exposure to daylight and immediately start continuous operation
Package of temperature, humidity, and illumination sensors, and data transmitter and receiver, with optional soil temperature and moisture sensors
Energy harvesting alone enables communications over a maximum distance of 2 kilometers (coverage depends on the surrounding environment)
Outdoor installation specifications (equivalent to IP67 dustproof and waterproof ratings)
Satisfies all outdoor uses requiring light stability, saltwater resistance, chemical resistance
Future Development
In addition to expanding use in the streamlining of agriculture, Nissha plans to diversify applications to disaster preparedness, infrastructure, marine, and other uses in which no power source is available.
Inquiry
Please feel free to contact us.
Devices Business Unit
Tel: +81-3-6756-7520 Mail:
NSOS@nissha.com
- The content of the web is information at press time, may change thereafter without notice. Planning goals, risks and uncertainties due to the fact, predictions and may differ from actual results. Please be forewarned.
- "Nissha" is a generic name of Nissha Co., Ltd. and "Nissha Group" is a Nissha Co., Ltd. and its group companies.