Sponsoring of the exhibition "Fear in Painting"
July 10, 2017
Nissha Printing Co.,Ltd.
The exhibition "Fear in Painting" Overview
This exhibition, inspired by the best-selling book Kowai-e ("scary paintings") by Nakano Kyoko, picks up "scary" paintings (mainly modern European paintings, including those taken up in the book) and displays them according to subject such as myth, reality and history. Some evoke fear directly through vision, and others terrify you when you learn their backgrounds. Please enjoy the various forms of fear expressed in oil paintings and prints.
(*Quotation from Hyogo Prefectural Museum of Art website)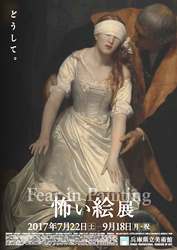 Exhibition Overview
Period
July 22 to September 18, 2017
Closed on Mondays
Exception: Open on September 18
Hours of opening
10:00-18:00
Fridays and Saturdays until 20:00
Admission by 30 minutes of before closing
Venue
Hyogo Prefectural Museum of Art
Official website
"Fear in Painting" (Japanese only)
- The content of the web is information at press time, may change thereafter without notice. Planning goals, risks and uncertainties due to the fact, predictions and may differ from actual results. Please be forewarned.
- "Nissha" is a generic name of Nissha Co., Ltd. and "Nissha Group" is a Nissha Co., Ltd. and its group companies.