Exhibits IMD, IML for Automotive interior parts at Fakuma in Germany
September 29, 2017
Nissha Printing Co.,Ltd.
Nissha Group company Schuster Kunststofftechnik GmbH (hereinafter "Schuster") will be exhibiting at Fakuma 2017 in Germany on October 17- 21, 2017. Schuster will exhibit IMD, IML for automotive interior parts at the booth (No.B5-5311).
Fakuma is the world's leading technical event for industrial plastics processing.
Nissha's Industrial Materials business unit aims to widen the scope in the automotive field which is expected to grow on a global basis and is designated as a key market. We are improving product line-ups and building supply chains adapting to the needs of our automotive customers.
In October 2016, the Industrial Materials Business acquired Schuster, which is involved in plastic molded products used in automotive interiors, and Back Stickers, which is involved in decorative film, in Europe along with their group companies and made them subsidiaries. With this, the Industrial Materials Business has acquired a new production base in the European region, which is important to the automotive market, to go along with existing bases in North America, Mexico and Southeast Asia. It has also gained new decorative technology and the strong sales channel in Europe of these groups,
In the future, we aim to further expand business by creating synergies among group companies.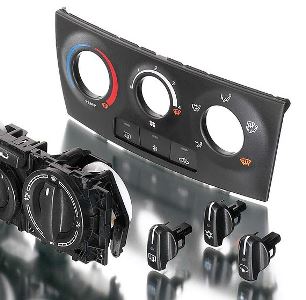 Exhibition Overview
Name
Fakuma 2017 - International trade fair for plastics processing-
Period
October 17-21, 2017
Venue
Messe Friedrichshafen
Booth:No.B5-5311
Items to be displayed
IMD, IML for Automotive interior parts
Official website
Fakuma (English and German only)
- The content of the web is information at press time, may change thereafter without notice. Due to risks and uncertainties, predictions may differ from actual results. Please be forewarned.
- "Nissha" is a generic name of Nissha Co., Ltd. and "Nissha Group" is a Nissha Co., Ltd. and its group companies.