Formulation of New Nissha Philosophy
January 5, 2018
Nissha Co., Ltd.
We at Nissha have formulated a new Nissha Philosophy, which took effect on January 1, 2018, as a universal statement that defines the essence of the Nissha Group.
The Nissha Philosophy comprises a Mission, outlining the purpose for our existence; Brand Statement, expressing the relationship between Nissha and our stakeholders; Nissha Innovation Way, presenting our ideal means of creating customer value and product lines; and Shared Values, serving as an ethical and action guideline for our employees.

We at Nissha have fused the printing technology cultivated since our founding with elements such as laminating, coating, and molding in a constant effort to improve our core technologies, diversify our products and target markets, enter into the global market, and realize an expansion of our business domain. With over 50 bases in and outside Japan and a majority of our employees working abroad, our capabilities continue to diversify today.
We formulated the new Nissha Philosophy to coincide with the start of the Sixth Medium-term Business Plan (covering the three-year period from FY2018 to FY2020) with an eye to carrying on changing and enhancing the value of the Nissha Group.

Nissha Philosophy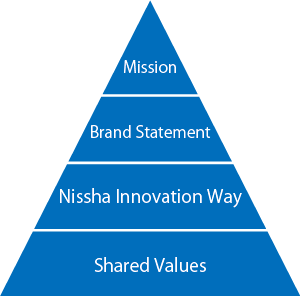 Mission
We realize the enrichment of people's lives by creating technology and developing it into economic and social value through the diverse capabilities, passion, and leadership of the global Nissha Group.
Brand Statement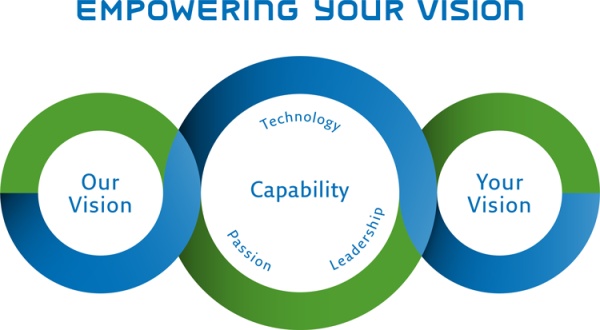 "Empowering Your Vision" expresses the relationship of Co-existence between Nissha and our stakeholders. Both we and our customers, shareholders, employees, suppliers, and society have visions, and we mutually affect each other toward realizing it. We maximize our capabilities driven by our technology, passion, and leadership, and with the energy infused in us by our stakeholders, together create value for the future.
Nissha Innovation Way
We capture market needs accurately and fuse our diverse capabilities and core technologies into innovation that creates new value for our customers.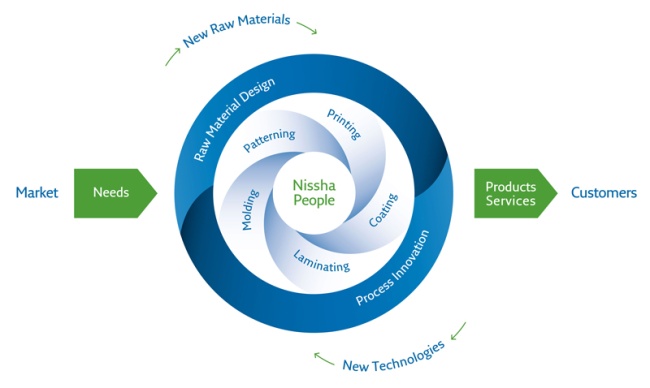 Nissha Innovation Way is a diagram of the product portfolio that the Nissha Group should aim for and the way of creating customer value to be realized.
Our current core technologies comprise "Printing", "Coating", "Laminating", "Molding" and "Patterning". We will continue to expand and evolve by incorporating new technologies and materials.
Shared Value
Customer is Our Priority
We are committed to maximizing customer value.

Diversity and Inclusion
We welcome diverse capabilities interacting as equals and enhancing our organizational performance..

Commitment to Results
We work with diligence and deliver results.

Done is Better than Perfect
We take actions first rather than sacrificing time value for perfection.

Act with Integrity
We act with integrity and maintain the trust placed in us.

- The content of the web is information at press time, may change thereafter without notice. Due to risks and uncertainties, predictions may differ from actual results. Please be forewarned.
- "Nissha" is a generic name of Nissha Co., Ltd. and "Nissha Group" is a Nissha Co., Ltd. and its group companies.