Nissha Releases Medical Devices in Japan
February 15, 2018
Nissha Co., Ltd.
Nissha Co., Ltd. has released in Japan a range of disposable electrocardiogram (ECG) electrodes from the Nissha Group brand of medical devices Vermed® in Japan.
Recognizing medical devices as a promising growth market, the Nissha Group acquired the Graphic Controls Group, a medical devices manufacturer based in the United States as a subsidiary in September 2016, positioning as the core of the Medical Technologies business unit. Graphic Controls engages in the production and sales of Vermed® brand medical devices and consumables for hospitals, boasting a track record of more than 40 years.
Nissha plans to operate business for hospitals in Japan with the aim of advancing patient care.


The features of the disposable ECG electrodes released this time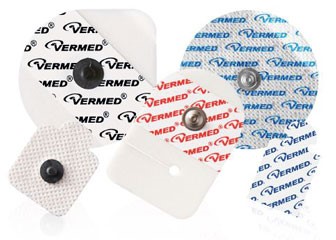 ●10 products lineups carefully selected from a long track record of sales in the U.S.A.
●Electrodes optimized by purpose: stress and holter testing, general purpose (for general wards), resting EKG, pediatric, and radiotranslucent
●Clear and color-coded packaging and product design

* Disposable: Designed for one-time use
* Vermed is a registered trademark or a trademark of Nissha Co., Ltd.

Product lineup
General description: Disposable ECG electrodes
Product Name
Type
Medical Device Certification No.
Vermed®
PerformancePlus
(For Stress & Holter Testing)
A10005-J(60)
A10072-J(60)

26B2X10027V01001
Vermed®
VersaTrode
(General Purpose Electrodes)
A10083-J(3)
A10005SG-J(30)
A10007SG-J(30)
26B2X10027V01002
Vermed®
SilverRest
(Resting EKG Electrodes)
A10022-J(100)
26B2X10027V01003
Vermed®
TenderTrode
(Pediatric Electrodes)
A10000-J(60)
A10027-J(100)
26B2X10027V01004
Vermed®
CarbonClear
(Radiotranslucent Electrodes)
A10031RT-J(60)
A10032RT-J(60)
26B2X10027V01005
Inquiry
Please feel free to contact us.
- The content of the web is information at press time, may change thereafter without notice. Planning goals, risks and uncertainties due to the fact, predictions and may differ from actual results. Please be forewarned.
- "Nissha" is a generic name of Nissha Co., Ltd. and "Nissha Group" is a Nissha Co., Ltd. and its group companies.