Nissha Exhibits Gait Track Visualizer at SEMICON Japan 2018:
Achieving both gait measurement exceeding 20m and portability
December 6, 2018
Nissha Co., Ltd.
Nissha Co., Ltd. (hereafter, "Nissha") will exhibit the Gait Track, Load Distribution and COP Visualizer developed jointly with Keio University's Keio Research Institute at SFC (Executive Director: Hiroya Tanaka) Sports and Health Innovation Consortium (Representative: Yuji Ohgi) at SEMICON Japan 2018, to be held from December 12-14 at Tokyo Big Sight.

The Gait Track, Load Distribution and COP Visualizer is a device that both measures and records movement of the center of pressure and load distribution on the area of the sole contacting the ground when walking over the sensor tiles, and also outputs the gait characteristics and changes as data through analysis of the data it obtains. As it uses connecting tiles, it is highly portable, and the length can be adjusted to suit the space where it is installed. It can be connected up in lengths greater than 20 meters, and is unique worldwide in being a foot pressure sensor that covers such a wide area. It can collect highly accurate data through measuring numerous walk cycles, so is expected to be used in a wide variety of ways, including support for sports training and preventing the need for long-term care.

Nissha's Devices Business is focused around the key product of film-basad touch sensors used in a wide variety of products globally, including smartphones, gaming gear, and automobiles. The touch sensor technology Nissha has developed, Keio University with its specialist field of sports engineering, and the dynamics model of the SFC Research Consortium based around the Ohgi Lab have come together as we aim to commercialize this product in 2019 as a simple yet practical foot pressure sensor for use in the sports and health fields.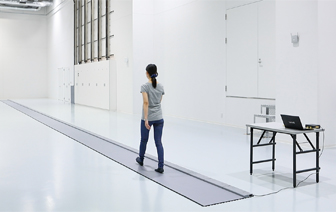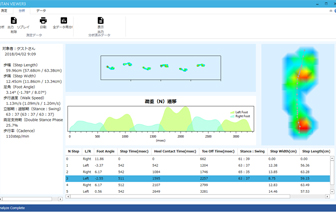 Exhibit Outline
Exhibit Name
SEMICON Japan 2018
Period
10:00-17:00
December 12-14, 2018
Venue
Booth: 3651
SMART Applications Zone, East 3 Hall, Tokyo Big Sight

Exhibit
Gait Track, Load Distribution and COP Visualizer
Official Website
SEMICON Japan 2018
Inquiry
Please feel free to contact us.
- The content of the web is information at press time, may change thereafter without notice. Planning goals, risks and uncertainties due to the fact, predictions and may differ from actual results. Please be forewarned.
- "Nissha" is a generic name of Nissha Co., Ltd. and "Nissha Group" is a Nissha Co., Ltd. and its group companies.