Further business extension in the automotive market
- Mobility Business Unit -

July 1, 2019
Nissha Co., Ltd.
We are pleased to inform that Nissha Co., Ltd. set up Mobility Business Unit on July 1, 2019.

We define automotive as one of our priority markets. In this market, our Industrial Materials segment promotes decorative films and molded parts out of IMD and IML processes, while our Devices segment delivers film touch sensors and hydrogen detectors. Mobility Business Unit (Hereinafter, the MBU), newly established, is a task force that these two business segments work together to seize more business opportunities in the automotive market.

It is said that the automotive market is in a revolutionary period once in a century. More specifically, it is transforming and evolving into "Mobility" market of which the scope is a whole social system relevant to mobility, with a trend of "CASE" (Acronym for Connected, Autonomous, Shared and Service, and Electric). For new business opportunites out of this market transformation, the Industrial Materials segment and the Devices segment will cross-fertilize to enhance the advantages of both business units, which should contribute to maximize values we can eventually bring to the mobility market. The MBU will not carry out only sales promotion of the current products, but also new technology and product extension such as IME (In-mold Electronics). It executes this growth strategy with a desired target of yearly consolidated sales JPY50 billion in 2025 or around.

※ The MBU is a task force, which makes no change in our current divisional organization. This means that the MBU establishment has no impact to the information by reportable segment in the corporate financial report.


(Reference: "Business opportunities in the automotive market"
Source from the presentation material for FY 2018.12 Results)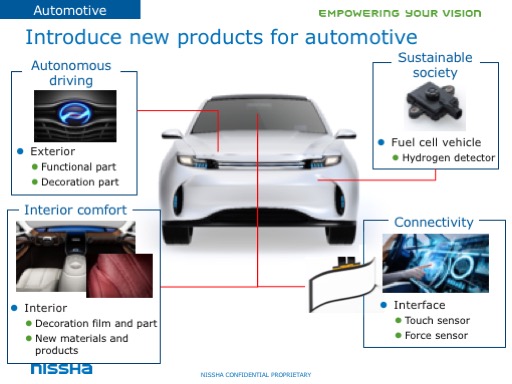 - The content of the web is information at press time, may change thereafter without notice. Due to risks and uncertainties, predictions may differ from actual results. Please be forewarned.
- "Nissha" is a generic name of Nissha Co., Ltd. and "Nissha Group" is a Nissha Co., Ltd. and its group companies.