Exhibit a gas sensor module for refrigerant leak detection
at "The 2023 AHR Expo"
February 6, 2023
Nissha Co., Ltd.
Nissha FIS Co., Ltd. (hereafter, Nissha FIS) , a Nissha Company, will exhibit at "The 2023 AHR Expo" to be held in Georgia, USA from February 6 to 8, 2023. This is the largest exhibition in North America in the refrigeration and air conditioning industry.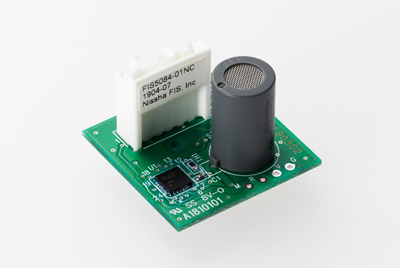 Nissha FIS will exhibit a gas sensor module for refrigerant leak detection. Chlorofluorocarbon gas, one of the greenhouse gases, has often been used as a refrigerant for heat exchange in refrigeration and air conditioning equipment. However, some international regulations aimed at preventing global warming are promoting the switch to CFC alternatives with low greenhouse effects. On the other hand, since some of CFC alternatives are slightly flammable, sensors for detecting leakage of refrigerant is now being installed in refrigeration and air conditioning equipment.

Nissha FIS produces gas sensor modules for refrigerant detection adapted to electrical safety standards for air conditioning and refrigeration equipment required in North America. Through this exhibit, we aim to expand sales in North America, the largest market for commercial air conditioning equipment.

Exhibition Overview
Name
The 2023 AHR Expo
Dates
February 6 to 8, 2023
Venue
Georgia World Congress Center, Atlanta, USA
Booth No. : C7456
Item to be displayed
Gas Sensor Module for Refrigerant Leak Detection
Official website
https://www.ahrexpo.com/
Inquiry
Please feel free to contact us.
- The content of the web is information at press time, may change thereafter without notice. Planning goals, risks and uncertainties due to the fact, predictions and may differ from actual results. Please be forewarned.
- "Nissha" is a generic name of Nissha Co., Ltd. and "Nissha Group" is a Nissha Co., Ltd. and its group companies.