Metallized Paper and Board
Metallized Paper and Board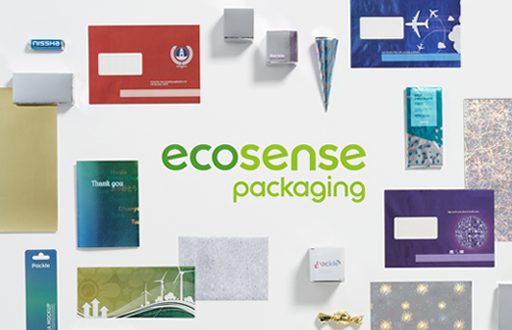 "ecosense packaging" includes METIVO®, metallized food packaging and wrapping and Packle®, metallized topsheets and paperboards for consumer goods packaging.
METIVO® - Food Packaging and Wrapping
Nissha Metallizing Solutions
, a subsidiary of Nissha is a leading producer and supplier of direct food contact materials. Under brand name
METIVO®
(Metallized Innovations), a special range of metallized papers and boards for the food industry have been developed.
Our metallized papers can be used as different types of food packaging and food wrapping. Nissha's metallized paper range for food is suitable for direct and indirect food packaging, and there are options for flexible, rigid and twisting applications. Nissha's metallized papers offer the superior functionality and excellent performance needed for food contact packaging. Nissha's suite of metallized papers is made from paper substrates, making them a recyclable, mono-material alternative to multi-layer and plastic food packaging.
Nissha Metallizing Solutions, a leading producer of metallized labels, is a trusted supplier of some of the world's most recognized brands in the food and FMCG (fast-moving consumer goods) industry. Nissha Metallizing Solutions' food packaging range offers alluring, premium looks.
Product Suite:
Ice cream cone wrappers
Food bags and sandwich papers
Chocolate wrap
Gum wrap
Candy and twisting paper wrap for sweeties
Barrier paper
Direct Food Packaging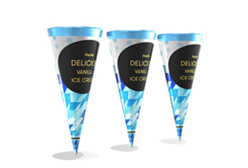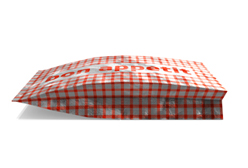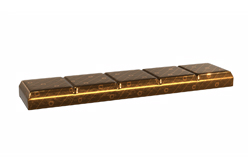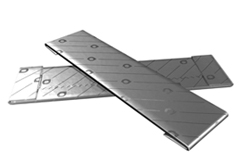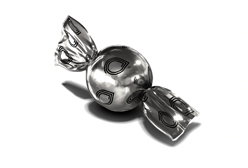 Indirect Food Packaging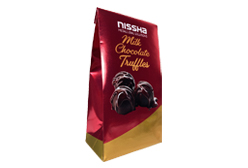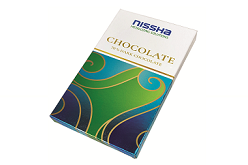 Each product is individually designed and optimized to deliver the exact technical requirements and functionality needed for each packaging application.
Technical qualities:
Highly functional papers
Specific technical and functional performance required for food packaging
Provides a mono-material alternative to multi-layer packaging
Recyclable and can be marketed as sustainable materials
Each paper is designed and optimized for one application
Excellent print and converting performance
Can be easily incorporated into existing printing and converting lines
Premium looks
Excellent barrier performance

Barrier qualities:

Nissha Metallizing's food packaging paper products are vacuum metallized paper with a MVTR (moisture vapor transmission rate) barrier. The paper range was designed with flexible applications in mind, but it can also be used for rigid packaging. Within our product portfolio we offer a high MVTR barrier: below 1gsm/day in tropical conditions.
The paper is certified as recyclable and is made of more than 95% paper. Converters can apply additional coatings and printing varnishes while maintaining the paper content at 80% or above.
Packle® - Consumer Goods Packaging and Wrapping
Via Nissha Metallizing Solutions' brand,
Packle®
, we help companies deliver sustainable, premium-look packaging. High-end packaging has traditionally been made from materials that are challenging to recycle. Packle® offers a recyclable, eco-friendly alternative to plastic packaging without compromising premium looks or finish.
Packle®'s papers and paperboard are suitable for folding boxes, litholamination, gift wrap, direct mail envelopes, graphic papers (for magazines, books, posters) and more. Packle® is also a leading producer of holographic papers.
Product Suite:
Boxes
Litholamination
Envelopes
Gift wrap
Posters, covers and media
Blister pack packaging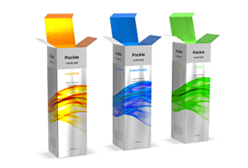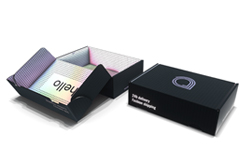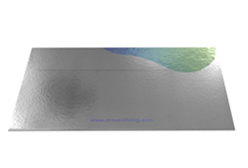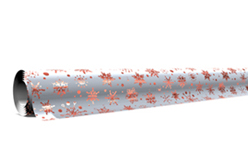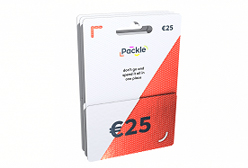 Packle®'s metallized paperboard and paper products are trusted by cosmetic, fashion, e-commerce, pharmaceutical, household and electronic brands, including some of the world's most recognized brands. Packle offers brands the ability to provide sustainable packaging with luxury and premium finishes.
Industries served:
Health and beauty
E-commerce and retail
Electronics
Fashion
Household
Pets
Sports
Media and advertising
Functional qualities:
Highly functional papers and paperboards
Print-ready papers with excellent print quality. Compatible with various printing techniques and inks
Eco-friendly and recyclable paper-based material
Can be incorporated into existing converting lines
Packle offers premium, luxury packaging looks
Custom holography can be used to tackle counterfeits
A book of standard holography
Facilitates printing and converting machine set up and runs on lines at optimum efficiency
Incorporate recyclable packaging without losing brand looks or style
Various finishes and textures to choose from
Labels
In addition to the packaging solutions here described, Nissha Metallizing Solutions offer a wide variety of labelling solutions (general / cut & stack labels, high and medium wet strength labels, pressure sensitive labels and in mould labels). Find out more in
Nissha Metallizing Solutions official website
.