Film Type of Pharmaceuticals (CDMO)
Film Type of Pharmaceuticals (CDMO)
Overview
We have focused on the Drug Delivery System*, and proceeded with development of film type of pharmaceuticals (Oral Thin Films and Transdermal Patches). By utilizing our Core Technologies, we believe that we can contribute to improvements in dosage compliance and quality of life (QOL) for patients and aim for contribution to realize the enrichment of people's lives. Nissha performs contract development of Oral Thin Films, and Zonnebodo Pharmaceutical plans to provide contract manufacturing of them.
For pharmaceuticals and quasi-drugs (own brand), Nissha Group develops and manufactures, please click
here
.
*A dosing system designed for efficiently delivering the required amount of drug into the targeted site in the body for the required time.
Oral Thin Films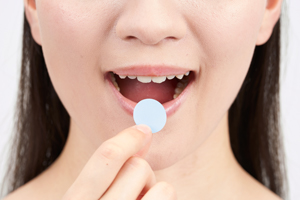 The thin film dissolves quickly in the mouth and is absorbed into the body. Since it be orally taken without water, and is suitable for elderly patients with swallowing difficulties and bedridden patients.
Key Features of Our Oral Thin Films
Excellent in rapid disintegration and fast drug release realize easy dose without water nor effort.
Various masking methods which suppresses bitterness and convergence enhances good mouth feeling during administration.
Manufacturing Process Innovation

Nissha innovated the original manufacturing process (patented) of oral thin films, which realizes reducing the pressure loading on drug substances and the loss of raw materials. Our process is expected to expand possibilities in existing drug formulation development.
The process that suppresses the amount of solvent, the amount of heat transferred to drug substances and pressure loading as much as possible.
Customizable in thickness and shape
Minimize raw material loss between processes
Transdermal Patches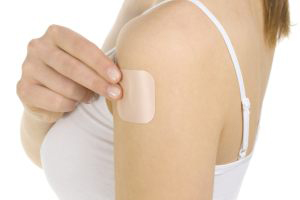 The patch type formulation is applied to the skin, allowing the drug to penetrate directly into the bloodstream. It has a feature that is associated with less side effects mediated by hepatic metabolism.
Manufacturing Base
Zonnebodo Pharmaceutical has manufacturing license for pharmaceuticals and GMP compliant manufacturing facilities with sophisticated manufacturing technologies and quality control capabilities in relation to a variety of drug forms, such as tablets, liquids and powders.
Company name
Zonnebodo Pharmaceutical Co., Ltd.
Address
5-7-14 Sandamachi, Hachioji, Tokyo 193-0832, Japan
Representative Director / CEO
Toshiyuki Yasui
Established
1988 *Founded in 1941
Business Outline
Manufacturing and marketing authorization holder of prescription pharmaceuticals and quasi-drugs, marketing authorization holder of cosmetics
Licenses

Manufacturing license for pharmaceuticals
Second-class marketing license for pharmaceuticals
Selling license for pharmaceuticals(licenses for wholesale distribution)
Manufacturing license for quasi-pharmaceutical products
Marketing license for quasi-pharmaceutical products
Marketing license for cosmetics

Website
https://www.zonnebodo.co.jp/ *Japanese only
Inquiry
Please feel free to contact us.
*Click the link to open an e-mail composition window.