Dissolving Microneedle Patch for Cosmetics
Dissolving Microneedle Patch for Cosmetics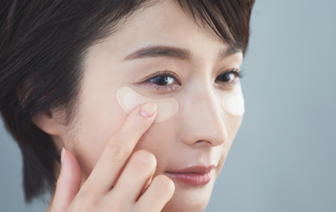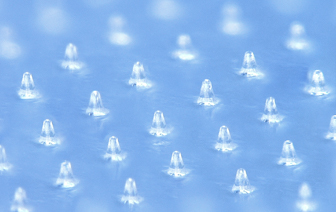 Microneedle patch is a skin care cosmetic patch that uses microneedles (where the beauty ingredient is molded into needle form). Applying this to the skin allows the microneedles to dissolve inside the stratum corneum, which means more effective results compared to skincare cosmetics you apply on the skin.

Nissha provides microneedle patch contracting manufacturing service (OEM/ODM) for cosmetics companies as well as manufactures and sells our own brand products.
Contracting service (OEM/ODM)
Feature 1 : Safe design strictly in compliance with the PMD Act
In strict compliance with the Act on Securing Quality, Efficacy and Safety of Products Including Pharmaceuticals and Medical Devices, we use a needle form which does not go past the stratum corneum while maintaining the penetration of the active beauty ingredients. This also means that they have none of the sharp pain of injections.
Introcusing contract manufacturing services of Dissolving Microneedle Patches for Cosmetics.
Production sites
Our microneedle patches for cosmetics are manufactured at our Kyoto Factory. The Kyoto Factory has obtained ISO22716, the international standard for quality and safety in cosmetics production.
Business license information (Japan)
Cosmetics Manufacturing License (License No. 26CZ200065)
Quasi-Drag Manufacturing License (License No. 26DZ200024)
ISO certification
Target Markets
In addition to Microneedle Patch for Cosmetics, we also offer decorative film for cosmetic containers and sustainable packaging materials.
Inquiry
Please feel free to contact us.