Nissha Acquires ISO/TS 16949 Certification for Touch Sensor Module Products
March 28, 2017
Nissha Printing Co.,Ltd.
Nissha Printing Co., Ltd. (hereinafter "Nissha") has acquired ISO/TS 16949 certification. This is for its integrated quality management system covering the marketing and design, handled by Nissha and processes from development and production to storage, of touch sensor modules manufactured at Nitec Precision and Technologies, Inc. Kyoto factory, the Nissha group company.
ISO/TS 16949 is the international standard most widely used in the automotive production industry, where customers demand advanced quality management systems. Nissha plans to use the certification as an opportunity to promote further enhancements in process management and the safe production of its products, as well as build a global supply chain for the automotive market.
In the Fifth Medium-term Business Plan, the Nissha Group seeks to reorganize its business portfolio in global growth markets and establish a foundation for earning a continuous, stable stream of revenue. To this end, it designates the automotive field as a key market in which stable growth is expected to continue into the future.
The Industrial Materials business, engaging in the production and sales of plastic molded components and decorative films for automotive interiors, already has ISO/TS 16949 certification for production sites in Malaysia and China.
And the Devices business, whose core products are Touch Sensors used in tablet devices and game consoles in the global market, is expanding applications to industrial equipment and automotive interiors.
Through the certification, Nissha hopes to provide products and services that will meet customer demand in a broad range of fields.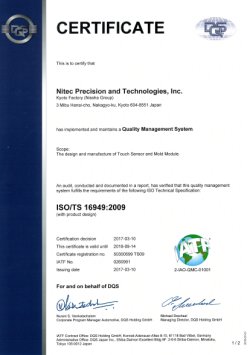 - The content of the web is information at press time, may change thereafter without notice. Due to risks and uncertainties, predictions may differ from actual results. Please be forewarned.
- "Nissha" is a generic name of Nissha Co., Ltd. and "Nissha Group" is a Nissha Co., Ltd. and its group companies.