Sponsoring of 2017 NHK Historical Drama "Naotora: The Lady warload"
"Sengoku! From Ii Naotora to Naomasa" Special Exhibition
July 6, 2017
Nissha Printing Co.,Ltd.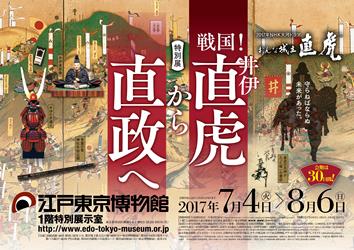 Exhibition overview
Period
July 4 to August 6, 2017
Closed on July 10, 18, 24, 31
Hours of opening
9:30-17:30
Saturdays open until 19:30
July 21, 28 and August 4 open until 21:00
Admission by 30 minutes of before closing
Venue
Edo-Tokyo Museum Special Exhibition 1F
Official website
"Sengoku! From Ii Naotora to Naomasa"(Japanese only)
- The content of the web is information at press time, may change thereafter without notice. Planning goals, risks and uncertainties due to the fact, predictions and may differ from actual results. Please be forewarned.
- "Nissha" is a generic name of Nissha Co., Ltd. and "Nissha Group" is a Nissha Co., Ltd. and its group companies.