Exhibiting at Cosmetic 360, the International Cosmetics Trade Fair
October 17, 2018
Nissha Co., Ltd.
Nissha Co., Ltd. (hereinafter, "Nissha") is set to exhibit at Cosmetic 360, the international trade fair for cosmetics to be held in Paris on October 17 and 18, 2018. Nissha will exhibit its Microneedle 2.0, a next-generation skincare technology.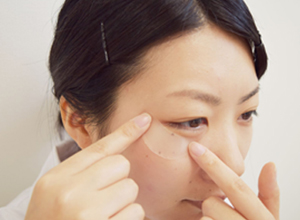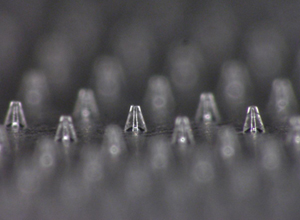 Standard microneedle patches made using microneedle technology are made from active ingredients shaped into microscopic needles ranging from a few dozen to a few hundred μm in size that are processed into patches to allow them to be applied to the skin. This technology has gained attention in recent years within the pharmaceutical and cosmetics industries as a next-generation drug delivery system that can effectively deliver active ingredients into the target areas within the body.
At the trade fair, Nissha will exhibit patches made using the Microneedle 2.0 dissolving microneedle technology it developed to be optimized for cosmetics purposes. Applying patches made using this technology allows the needles to pass through the skin barrier and dissolve directly, which means that active ingredients such as concentrated hyaluronic acid can directly and efficiently penetrate to the inner layers of the skin. Applying microneedle technology to cosmetics required design that met global legal standards and reproducing this design in production, which were made possible through the high-precision molding technology Nissha has developed over the years.

Cosmetic 360, the International Cosmetics Trade Fair Overview
Name
Cosmetic 360, the International Cosmetics Trade Fair
Period
October 17-18, 2018
9:00-18:00
Venue
Carrousel du Louvre, Paris
Nissha Booth: E5
Items to be displayed
Technologies of Microneedle 2.0
Official web site
https://www.cosmetic-360.com/en/
Inquiry
Please feel free to contact us.

Cosmetic Manufacturing License number in Japan  :26CZ200065
Quasi-Drug Manufacturing License number in Japan :26DZ200024
- The content of the web is information at press time, may change thereafter without notice. Planning goals, risks and uncertainties due to the fact, predictions and may differ from actual results. Please be forewarned.
- "Nissha" is a generic name of Nissha Co., Ltd. and "Nissha Group" is a Nissha Co., Ltd. and its group companies.